Here's how much it really costs to travel with your pet
May 12, 2015 at 9:30 a.m. ET
Pet travel is more popular than ever. In fact, the U.S. Travel Association reports that more than 30 million Americans pack their pups along with their luggage every year, a stat experts predict will only grow in the future. Chances are you're probably one of these dog parents (I know I am) who can't help but bring her fur baby along for the ride — if the price is right, that is. But before you book that flight, there is much to consider.
We've spoken to travel experts and frequent-flying pet owners to compile tips that will keep your trip with doggy in tow as low as possible, while also giving you the steps to planning a vacay without surprises (the bad kind).
Traveling by air ($95-$400)
First, you should reference the specific airline's policy on its website before booking your flight. A small cat or dog under 20 pounds is usually accepted in the cabin (if pets are allowed in the cabin at all). To be on the safe side, always opt for a soft-sided case to make sure it fits under the seat. If your carrier isn't approved once you get to the airport, there will be accepted carriers available for purchase.
Southwest charges $95 each way for in-cabin pets; Virgin America and JetBlue charge $100 each way; and American, US Airways, Delta and United charge $125 each way. (Ouch is right!)
To reserve a spot for your dog, call the airline's ticket agents to make sure there is room. For example, Delta allows two pets in first class, two in business class and four in coach on most domestic flights. This number limit differs per airline. Additionally, certain paperwork and proof of medical records may be requested by the airline before your pet's reservation is confirmed. Once confirmed, you will typically pay for your pet's travel at the airport.
There are other nuances that could affect your pet's flight plans. Some airlines do not allow pets in first class at all. Domestic flights are more lenient with pet travel than international flights, so the difference between the two should be noted by the traveler. Pugs, bull dogs and other similar breeds with notorious breathing issues aren't allowed on some airlines at all because of the liability. Additionally, not all airlines permit pets to fly as checked baggage in cargo at all, like Southwest.
Exception? Service animals: If you have a service animal, the rules usually don't apply. Your pet will take priority over other pet reservations, can fly free and not be required to stay contained in a carrier for the duration of your flight. Also, the size requirement is usually waived. I've seen large golden retrievers and standard poodles sitting at their owners' feet in the cabin. Again, check airline policies for verifying that your pet is a service animal.
Putting your pet in cargo: Flying a pet as cargo can be more expensive than the cost of your ticket so beware! For example, American Airlines has charged $350 round trip. Delta charges $400 round trip for pets traveling as checked luggage on domestic flights. The heat of summer is something else to consider. For example, American does not allow pets as checked luggage when the temperature is above 85 degrees Fahrenheit.
To work around these steep prices, Danika Daly, mom to Yorkshire terrier Rajah and frequent flyer, says Frontier Airlines is one of the least expensive airlines she's used.
"It is a budget airline, so you may have to sacrifice a little leg room, but at $75 each way, it's not so bad. They also love pets! Rajah is a pretty large Yorkie, but he doesn't have a problem with less space."
She also recommends checking your bag versus carrying on. "For airlines that don't offer a free carry-on, it ends up being less costly to check it, and it frees up your hands, which you'll need when carrying a pet around."
Pin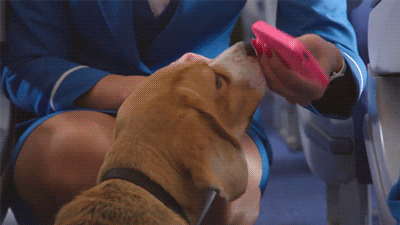 Image: Giphy
Hotel or rental accommodations ($0-$50+)
Daly says Airbnb is her go-to when booking a place to stay while away, saying that it's less expensive than staying in a hotel in most cases. "And, you get more space! Depending on your destination, sometimes you even get a nice backyard or a good grassy walking street," Daly says.
On the other hand, Californian and travel writer Cassie Kifer frequents hotels on trips — if she's not taking her RV for a road trip — since she usually can cut costs by driving.
"The only added cost I can think of is the pet fees charged by some hotels. I always do my research in advance, identifying all of the pet-friendly properties in the area and inquiring about the pet fees. Sometimes the cost can be quite high ($50 per pet, per night!), so I look for properties that either assess no fee or charge one single fee for the duration of the stay," Kifer said.
Kifer says that in her experience with Kimpton, it does not charge pet fees at their properties. On the budget side, she recommends Motel 6 as she's never been charged a pet fee. La Quinta Inn, Red Roof Inn and Comfort Inn have selected properties that are pet-friendly with a low or no fee.
Vacation rentals are another solution for those traveling with pets. Think private yards! One to check out is HomeAway, a vacation rental marketplace with more than 258,000 vacation rentals worldwide that are pet-friendly.
Pet sitters ($0-$35 a day)
You can find a sitter for your dog (and cat) on sites like Rover and DogVacay (which recently launched CatVacay). These networks connect pet parents with local dog-sitters who are willing to provide in-home care for pups. The cost for boarding is low, $25 to $35 per day.
Alternatively, Kifer has a house sitter come and stay with her dog in her home. While sites like Rover and DogVacay offer this service, Kifer says she joined TrustedHousesitters, an online exchange that pairs traveling pet owners with pet sitters who are willing to come stay at your house for free in exchange for pet care.
"I travel on several extended trips each year, and this has saved us thousands of dollars on boarding and other pet-care fees."
More in pet travel
8 Ways to avoid dog flu and still be active with your pet
5 Training tips every dog owner should know
12 Things only people with fur babies understand