13 Cute animals trying to take over for the Easter Bunny
Apr 1, 2015 at 12:00 p.m. ET
Who says you need to be a bunny to deliver eggs on Easter? These animals are all decked out in their finest gear to try and take the job.
1. Easter kitty
Pin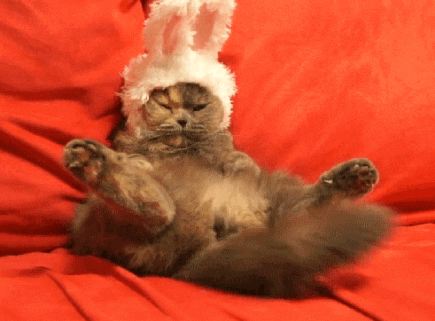 Image: Giphy
This guy's pretty relaxed on the couch right now, but we're sure once he gets his basket he'll start hopping in search of eggs.
2. Paper ears
You gotta give this pup credit for making her own ears. That's what we call mad skills.
3. Snake bunny
We know what you're thinking: An Easter snake instead of a bunny? But come on, how cute does it look in its little ears?
4. Boston bunny
This Boston Terrier is adorable in its white bunny ears, and its little face seems to be saying, "Pick me!"
5. Grumpy bunny
OK, so maybe this kitty looks more like Grumpy Cat than the Easter Bunny, but we're sure she'll work on her attitude.
6. Bulldog bunny
This dog has got the ears and is already chomping on carrots. What else do you need from an Easter bunny?
7. Multiple choice
All four of these little guys are ready to try their hand at hopping around and handing out eggs. Take your pick.
8. Puppy bunnies everywhere!
Pin
Image: Giphy
Watch out! These Easter puppies are about to take over the world.
9. Triple threat
Just in case the Easter Bunny decides to give them any trouble, these three pups are ready to gang up together.
10. Cats and terriers
These cats look only partially interested in Easter, but the Boston Terrier is ready to go with its adorable blue ears.
11. Easter puppy
This dog's expression says it all: "Where's my basket? I'm ready to go!"
12. Happy bunny
If the ears on this little pup don't make your heart melt, what about its smile? This pooch is pleased as punch to be the new Easter bunny.
13. Sleepy bunny
This little dog worked so hard at trying to be a good Easter bunny that he tuckered himself out. Apparently, passing out eggs to all the kiddies is not as easy as it looks.
More in Easter fun
Chick-shaped cheese balls are an adorable Easter appetizer
The best family Easter activities from Pinterest
12 Cute Easter brunch ideas your kids will love