While we all have lofty aspirations in life, it's abundantly clear by now that things don't always go according to plan. And if you're a parent, "don't always" is simply a dressed up way of saying "basically never" — particularly where breakfast is involved.
More: You May Think These Mom-isms Are Funny, But Your Kids Don't
The thing is, we all want to be those perfectly put together parents whose kids get a five-star breakfast at home every morning before school. However, expectation and reality are two very different things, my friend.
Here are ways preparing breakfast for your kids might look in your mind's eye compared to how it plays out in real life.
Expectation:
The alarm goes off. You roll out of bed feeling invigorated and breeze into the kitchen, refreshed and ready to cook your family the most important meal of the day.
Reality: 
After hitting the snooze button for the 14th time, you stumble out of bed and in the direction you think looks like the kitchen through your half-open eyes. That is, if the children let you sleep until the alarm actually goes off instead of deciding to act as tiny, loud human alarm clocks.
Expectation:
You open the pantry, and everything you need is right at your fingertips.
Reality: 
Your pantry is a barren wasteland. If you hollered into your cupboard, you'd probably hear a faint echo. For a moment, you wonder out loud if you can MacGyver a meal out of flour, a can of pinto beans and some taco seasoning.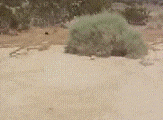 Expectation:
Once you gather your ingredients, you flit about the kitchen so seamlessly that you feel like a Disney princess and half expect small woodland creatures to start pitching in.
Reality: 
If there is something that could be spilled, you knock it over. You are a cacophony of clanging pots and pans. You spill and throw so much salt over your shoulder that your fingers feel dehydrated.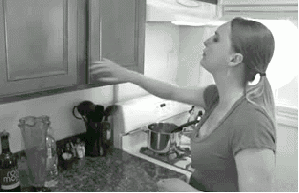 Expectation:
Your little ones totally leave you alone, granting you the space and time you need to prepare the nourishment for their little bodies.
More: An Easy Guide to Making Your Own Gummy Candies
Reality:
Ha! J/K, J/K. Rather, they're running around the kitchen in circles sticking their finger into bowls of batter and stealthily standing behind you in a way that guarantees you'll do the teetering "am I about to wipe out or can I recover my balance?" dance we all know and don't love.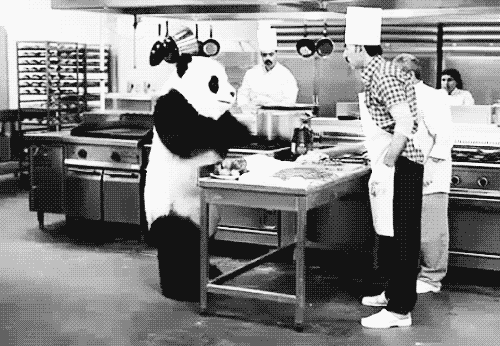 Expectation:
You prepare a feast of mythical proportions. After all, breakfast is brain food! You whip up a wholesome homemade spread so good it would give Rachael Ray a run for her money.
Reality: 
If this were an episode of Chopped, your rendition of "breakfast" would undoubtedly elicit a snarky remark and upturned nose from Judge Alex Guarnaschelli. But it's the thought that counts, right?
Expectation: 
Your children lavish you with mumbled gratitude between voracious bites of the hearty breakfast you poured your heart and soul into making. Tummies are filled and faces are smiling.
Reality: 
They are children and as such are not rational beings. One refuses to eat their eggs because they aren't blue and the other has a meltdown because their pancakes are touching each other.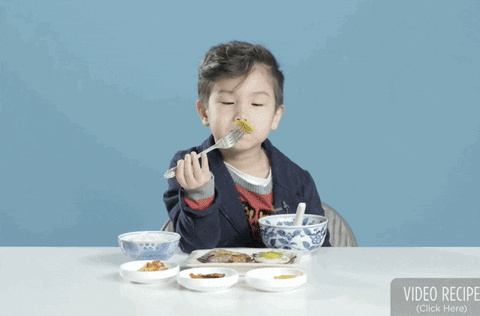 Expectation: 
Everyone minds their proverbial p's and q's during the meal, passing plates with polite pleases and thank yous. It's like a beautiful dance… but with food.
Reality: 
You know those nature documentaries featuring feeding time at the watering hole? Breakfast with kids looks a lot like that.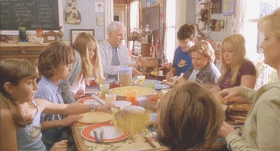 Expectation:
Since everyone cleared their own plates, there is remarkably little for you to do — while the kids finish getting ready, you toss a few dishes into the dishwasher and wipe away an errant crumb or two.
Reality: 
You may have to call in special forces, because this is a DEFCON-1 situation. How can such small humans make such a big mess?
Expectation: 
Now that your family is fed, you sit down to enjoy a delicious, hearty breakfast of your own.
Reality: 
After foraging through what's left on your kids' plates, you scarf down the discarded corners of a Pop-Tart, half a soggy Eggo waffle and three semi-smushed blueberries. Breakfast of champions!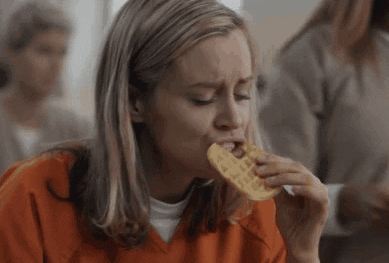 More: 7 Parenting Gaffes Our Parents Made All the Time — And We Turned Out OK
What does your morning routine look like?
This post was sponsored by the goodness of GoGo squeeZ® YogurtZ.