The Heritage High School Panthers, a baseball team in Palm Bay, Florida, hadn't won a single season since their team was first established in 2009. Seven years of ending the season on a low note would wreak havoc on anyone's morale, and once it's been nearly a decade, it's hard to know exactly how to pull your team out of the slump.
Well, Coach Rob Querry, the Panthers' fearless leader, thought he had the answer: baby-naming rights. He told his players that if they won the season, they'd have the chance to name the baby Querry is expecting with his wife, Julia. While it may not be the most traditional motivator for teen boys, it appears to have done the trick, at least in part — the Panthers won their last game of the season and therefore the season itself on Tuesday, so we hope Coach Querry is ready to put his money where his mouth is.
More: Photographer captures exact moment baby pees all over his parents
Usually when you give kids the chance to name a baby, they don't always understand the gravity of the situation. You'll hear suggestions for things like Rainbow Star or Peanut Butter Cupcake or Fleek. But the Panthers seem to have taken the entire thing pretty seriously, and considering that there are adults out there with no qualms about naming their children Mahvryck, the boys' choice of Benjamin Smalls Querry isn't just a premium pick — it's got some meaning packed into it.
If you're wondering where you might have heard the names Benjamin and Smalls before, let us refresh your memory: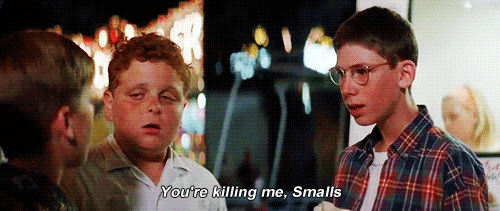 Yep, the boys pulled both names from that 1993 baseball-themed, coming-of-age movie beloved by Gen Xers (and apparently today's young'uns) everywhere — The Sandlot. It's a combination of two of the main characters' monikers, Scotty Smalls and Benjamin Franklin Rodriguez, and when you put it all together like that, it's actually a really cute name that rounds out a pretty awesome story.
More: 12 celeb parents whose tattoos are like love letters to their kids
David Evans, who wrote and directed The Sandlot, certainly seems to approve of the choice. When he heard about what was riding on the big game, he showed up to watch the kids play. But what we're most interested in is what Coach Querry's wife thinks.
We're hoping he asked Julia before he dangled the name their son will live with for all eternity like a carrot on a stick, because if she had something else in mind, she's going to have a whole lot of trouble vetoing the team's choice, especially given all the interest in the unique bargain and cute name they picked. We have to assume she knew what was coming, and we can't think of a reason she would give the name the ax. It could be a lot worse, and it's hard to imagine a better one.
More: Oh baby! Woman gets the surprise of her life in the delivery room
For now, Julia seems to be taking it in stride at the very least and embracing it wholeheartedly at the very most:
Here's a huge congratulations to the Panthers for winning their season, and another for the Querrys, who are expecting little Bennie Smalls this fall!
Before you go, check out our slideshow below: