I was on vacation in May when I got the call that my house in Texas had been destroyed in the storms and flooding that ravaged the state in late spring.
I laughed, because of course it did. Such is my life. There we were, my daughter and I, on the first vacation I had pieced together since my divorce, and the very universe had collided to try to ruin it. When we flew into Dallas, all I saw was miles of flooded rivers and lakes and I knew I was coming home to a disaster zone.
More: Manage your expectations for family vacations
I was right. My home was pretty much destroyed. Contractors came to the property and $10,000 in estimated damage quickly turned into $70,000 or more. We weren't sure if insurance would cover it or not, or how much they'd pay toward the total. My daughter and I took the suitcases we had packed for our sad little vacation and began a summer of bumping around between friends' houses and house-sitting gigs, trips to Austin to stay with family and a whole lot of weird work days in which I connected to the Wi-Fi in my damaged house and tapped away at articles in my backyard while sitting on a pillow.
It has been the best summer of my life as a mother.
More: Terrible Teens: The ungrateful vacation
This conclusion hit me when I was bawling my eyes out in the shower at a neighbor's house. I call the shower my private cubbyhole for tears. Or a glass case of emotion. Either way, it works for me and I think that all mothers should have something similar for their most intense emotional processing sessions, tucked away from the prying eyes of their children.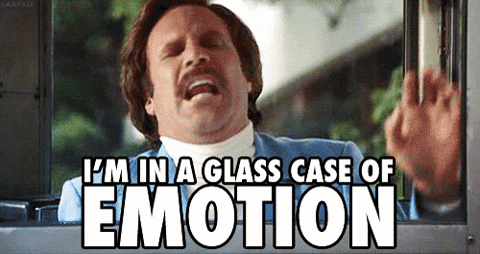 Image: Giphy
Despite the difficulties that have come from this unexpected summer, my daughter and I have had so much fun. The tenderness I have somehow managed toward our situation has allowed me to embrace how terribly I'm handling this whole thing — occasional popcorn for dinner, too many movies, the absolute reign of chaos and the most effing enjoyment I've had in a long time. The confusion, fear and worry has dismantled the expectations I had for how I was supposed to create summer memories for my daughter. In the absence of expectations, the real and beautiful and wild memories have emerged.
It's eerily reminiscent of the real and beautiful and wild memories that emerged after my separation, after my divorce, after a confusing job loss and after all the times life has ostensibly fallen into pieces.
More: 12 Awesome beach hacks for family vacations
I wouldn't wish this summer on anyone. But I also wish for all mothers that they have a chance to come face to face with the death of expectation, so they may find their own brand of beauty in the chaos, popcorn and midnight dance parties that follow.