Overwhelmed at home? Overwhelmed by attempting to delegate? Check out these simple ideas to make a chore chart work for your family.
I know, it sounds crazy. The only thing worse than cleaning everything yourself is having to delegate and then manage chore time. With these super simple chore chart ideas, though, you'll delegate in a snap. Just pick the one you like best, kick back and enjoy your freedom.
1. The clothespin system
Image: Brandy/BD Design Blog
We love this easy idea from Brandy at BD Design Blog. Decorate clothespins for the chores you'd like your kids to complete. At the beginning of each day, just pin the chores for the day to the lip of a cup. Once a chore is complete, your child can toss the pin into the cup to signify a job well done.
2. Allowance-based chart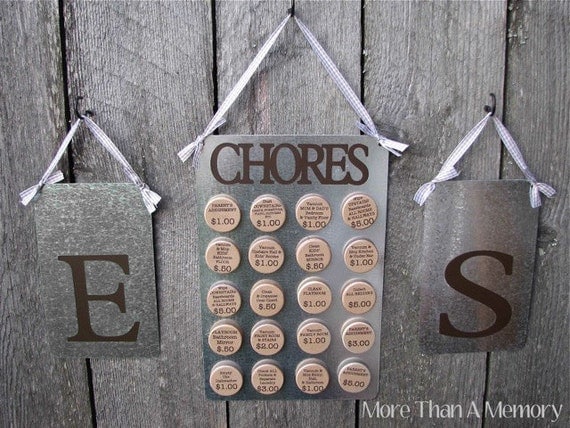 Here's a way to teach your children the value of hard work if allowance is your thing. Purchase a customized magnetic chore chart with the amount of allowance for each completed chore. (Etsy, $44)
3. Cookie sheet chore charts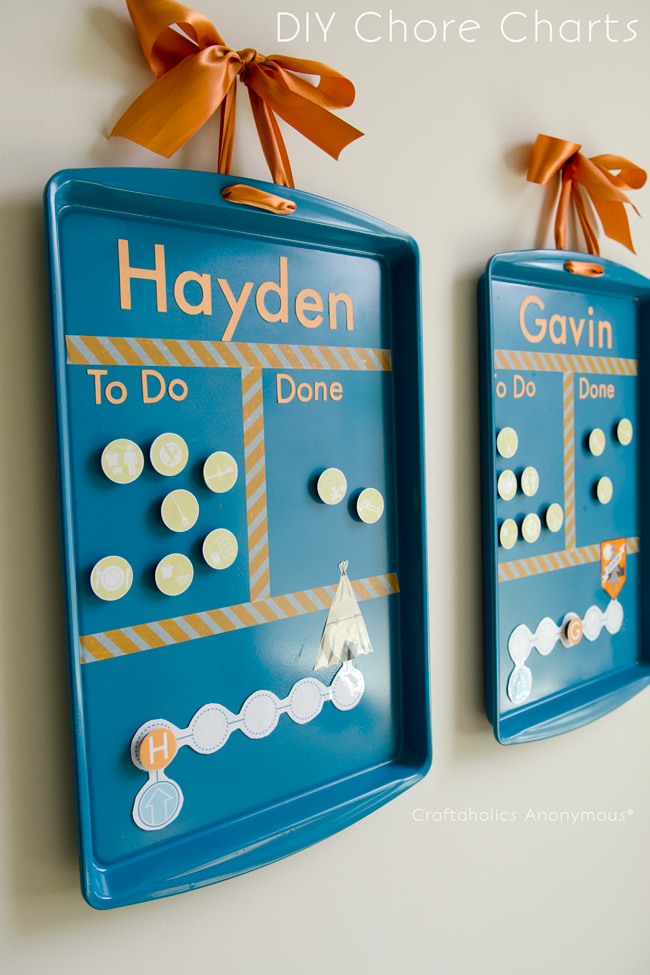 Image: Linda Gardner/Craftaholics Anonymous
These pretty DIY chore charts from Craftaholics Anonymous are great for little hands and far more durable than paper charts.
4. A preschooler's chart
Image: Amy/My Name is Snickerdoodle
Don't let the children get away with laziness just because they can't read yet. Here's a great idea for an illustrated chart, which is perfect for your smallest minions.
5. The pseudo-whiteboard
Image: Jenifer/Moss Moments
Here's a chart that's great for older kids. Just print a list of all the chores you could ever imagine doing and place the list in a picture frame. The glass of the frame provides a perfect surface for you to check off the chores that need completion with a dry erase marker.
6. The easy printable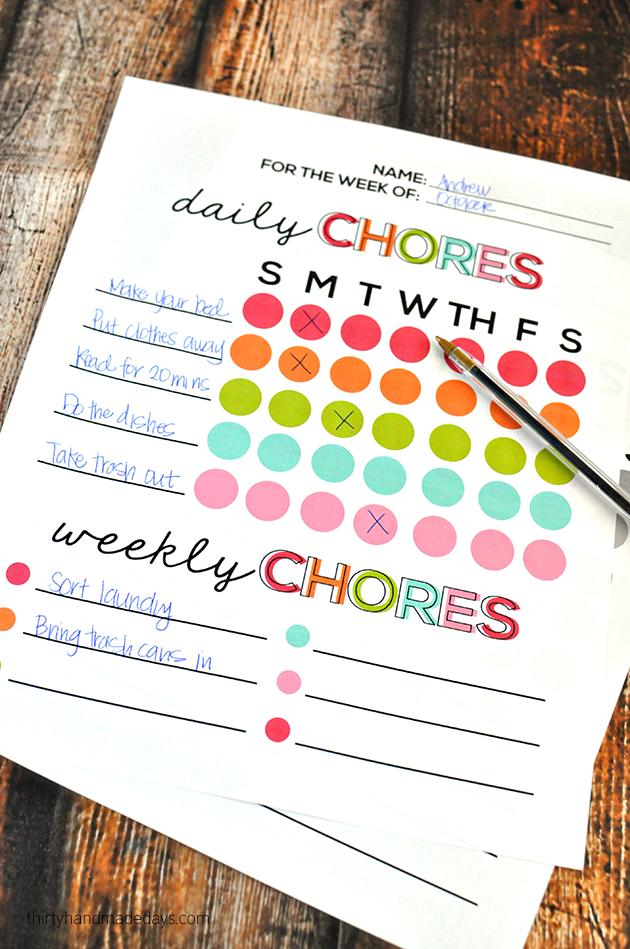 Image: Mique/Thirty Handmade Days
Finally, you really can't go wrong with a printable. This colorful version will allow you to write in chores for the day and week, if you're the type who has trouble with commitment.
Tips for success
Once you have the right chore chart, you can pretty much set it and forget it. You should keep the following tips in mind, however, for a more seamless and happy foray into delegation bliss.
1. Make it central. Do not give the children a chore chart for their room. It will get lost. Instead, keep whichever chore chart you select in a central location so the entire family knows where to find it.
2. Keep it appropriate. Select age-appropriate chores for the kids so they can feel successful rather than frustrated. Include even the youngest kids in the chore chart fun by asking them to do things like move clothes from the washer to the dryer or wipe up messes. Up the ante for tweens and teens.
3. Link it to reward, not punishment. If the chore chart isn't completed as you expected, try not to punish. Instead, link chore chart completion to an incentive like allowance or activity coupons. They'll get the point eventually.
4. Include some gimmes. Help kids feel successful by including chore chart items like twice-daily tooth brushing or a daily bath. Successful completion of these normal activities will help kids feel more excited by the chart.
More super mom ideas
We're changing our children by not letting them play outside like we did
Things kids should do at least once this summer
Ditch your kids and have your own summer vacation