You may remember getting groped to "MMMBop" in a sweaty gym at the eighth grade dance, but I bet you didn't know that sweet '90s jam was about parenting. Hanson was before their time. They were preaching profound parenting truths before they hit puberty.
In fact, the more I think about it, the more I'm convinced that my favorite '90s hits were really about parenting. Or maybe this is a sign that my mom brain is fried. Instead of being one of those people who sees the face of Jesus in her toast every morning, I'm hearing parenting messages in my favorite '90s throwbacks.
But seriously. Try to tell me that these '90s songs weren't really about having kids.
1. "Always Be My Baby" by Mariah Carey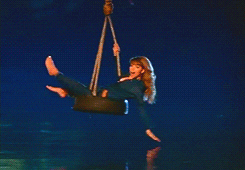 Image: Giphy
What's that they say about how you can't outrun underestimate a mother's love? "You'll always be a part of me. I'm part of you indefinitely. Boy, don't you know you can't escape me. Ooh darling, 'cause you'll always be my baby."
2. "Basket Case" by Green Day

Image: Giphy
Before it was cool, Billie Joe was writing hits for the sleep-deprived postpartum mom: "Sometimes I give myself the creeps. Sometimes my mind plays tricks on me. It all keeps adding up, I think I'm cracking up."
3. "Counting Blue Cars" by Dishwalla
Image: DishwallaVEVO/YouTube
Really. How is this not an actual children's song? I have spent the past four years counting many, many blue cars and being asked by my children about the deeper meaning of life. "We said, 'Tell me all your thoughts on God, 'cause I would really like to meet her. And ask her why we're who we are. Tell me all your thoughts on God, 'cause I am on my way to see her."
4. "Enter Sandman" by Metallica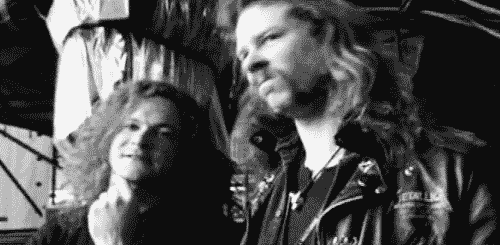 Image: Giphy
Badass Metallica song or a slightly inappropriate nighttime lullaby? When a song says, "We're off to Never-Neverland," it's kind of hard to take it seriously.
5. "Foolish Games" by Jewel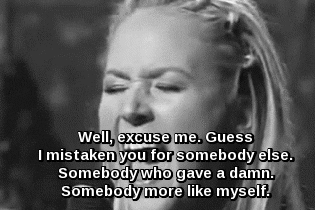 Image: Giphy
I used to strum this song in my preteen folksy guitar phase, but now I'm positive Jewel was really referring to those games your toddler wants to play over and over and over again. Yes, Jewel, "these foolish games are tearing me apart."
6. "Ironic" by Alanis Morissette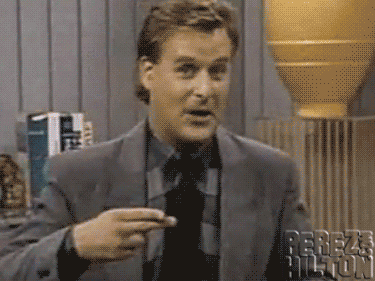 Image: Giphy
Sure, Alanis got slammed for her loose and often incorrect interpretation of irony, but she did get one thing right: There are so many times when being a parent is ironic. You have created life, so now you have no life. The louder you talk, the less your kids hear. Parenting can be life's greatest joy, but it certainly isn't fun every day. It's kind of like "ten thousand spoons, when all you need is a knife."
7. "I Want It That Way" by Backstreet Boys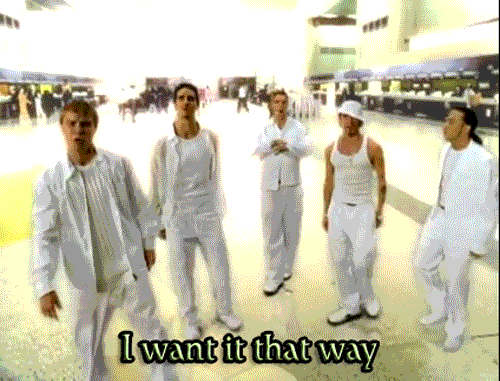 Image: Giphy
The Backstreet Boys sang what every parent is thinking when they serve dinner to a picky toddler: "I never wanna hear you say I want it that way."
8. "MMMBop" by Hanson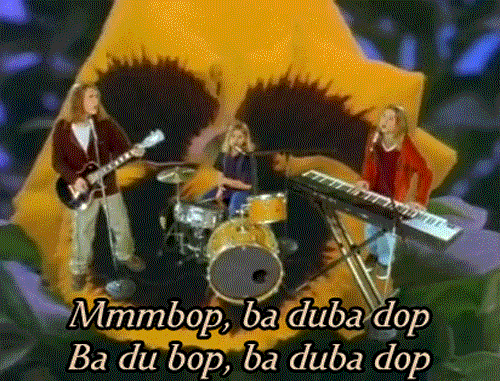 Image: Giphy
It's totally normal to listen to "MMMBop" when you work out 20 years after the fact, right? Right? As Hanson said, "You have so many relationships in this life, only one or two will last. You go through all the pain and strife, then you turn your back and they're gone so fast… In an MMMBop, they're gone." Thinking about this in the context of my kids turns me into a blubbering mess. Don't grow up yet!
9. "Smells Like Teen Spirit" by Nirvana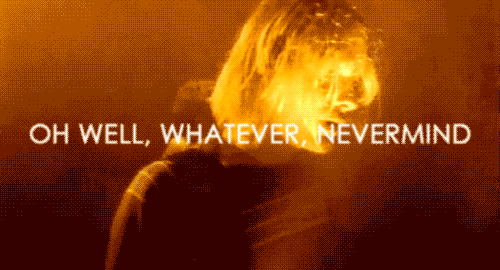 Image: Giphy
Look, forget the indecipherable Kurt Cobain lyrics. Teens are very smelly. Every parent knows this.
10. "Tubthumping" by Chumbawamba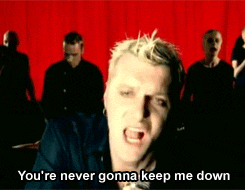 Image: Giphy
I fail to see how this addictively annoying '90s hit is not about bath time. Baths are slippery. Kids fall down a lot. I rest my case. "I get knocked down, but I get up again. You're never gonna keep me down."
11. "Two Princes" by Spin Doctors
Image: Gifsoup
I'm asking this question for the thousandth time: Why hasn't anyone turned this poppy '90s hit into a children's book yet? The story tells itself: "One, two, princes kneel before you. That's what I said, now. Princes, Princes who adore you. Just go ahead, now. One has diamonds in his pockets. That's some bread, now. This one, said he wants to buy you rockets. Ain't in his head, now."
12. "You Get What You Give" by New Radicals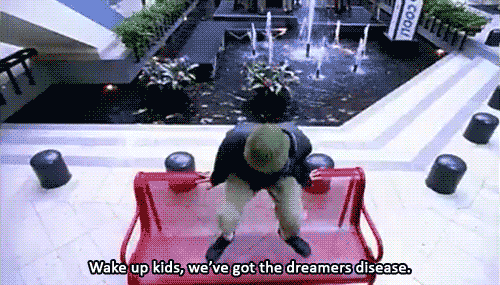 Image: Giphy
What the New Radicals don't want you to know is that this song is really about learning to share — and it's probably the reason I have crafted a fully functioning LEGO bartering system between my two toddlers to defuse fights.
More on parenting
Things moms should know before they have kids
Here's how to support friends with a child with autism
Gotham star Zabryna Guevara has a refreshing take on being a working mom