Living life as an eco-friendly mama shouldn't add more of a burden to your crammed to-do list. Follow these ideas to simplify your green life as a new mom.
1. Ointment on the double
Keep your skincare needs simple, Mama, by investing in lotion that pulls a double shift. You can soothe the skin of both you and your baby with Aden + Anais' naturally derived, oh-so-sweet smelling pawpaw fruit ointment. (Aden + Anais, $16)
2. Whip up a puree
Store-bought baby food is expensive, and you can only use those little glass bottles for so many DIY crafts. Not sure where to start? These simple recipes from Annabel Karmel are easy-peasy.
3. Make reusable wipes
You will not believe how many wipes that little baby bottom will require before it's time to potty train. Cut your costs substantially and unclog our nation's landfills by making your own cloth wipes with this guide from Thinking Outside the Sandbox Family.
4. Try a diaper service
Speaking of landfills, the eco-friendly mom should consider replacing disposable diapers with cloth ones. If the idea of cloth diapering sounds like a messy and horrifying endeavor, search for a diapering service that will clean and deliver fresh clothies to your front door.
5. Glob your paint
If your little one is ready to get messy with some paints — or if you want to make footprint or handprint art — make sure that he or she is fiddling with the all-natural variety. Glob paints are made from fruits, veggies, flowers and spices for an eco-friendly alternative to normal paints. (Amazon, $24)
6. Ditch disposable food pouches
Those little food pouches are handy, but they're also a total waste of packaging. If you make your own baby food, you can store it in reusable food pouches for a green alternative to the store-bought kind. (Amazon, $15 for 4)
7. Buy recycled clothing
Yes, you can buy "new" recycled or eco-friendly baby clothing at the store, but there is another budget-friendly alternative at your fingertips. Shop at a thrift store or garage sale for eco-friendly finds. Seriously. Anything you buy secondhand is 100 percent recycled (and cheaper, to boot).
8. Check out that glass
Classic glass bottles are BPA-free and fully recyclable, so they are a great choice for the eco-friendly, bottle-feeding mom. Evenflo offers a nice option at a reasonable price point, unlike many glass bottles on the market. (Babies 'R' Us, $11 for 3)
9. Mix a homemade cleaner
Keep your baby's nursery smelling fresh with an eco-friendly homemade cleaner. Follow this tutorial from One Project Closer for an all-purpose cleaner that relies on the properties of vinegar and sweet-smelling essential oils for a powerful and odor-busting clean.
10. Use organic bedding
Many crib mattresses contain plastics that are linked to irritation. You can bypass this potential problem by using an organic mattress, like this one by Naturepedic. Just make sure to use organic bed linens, too. (Amazon, $259)
11. Rattle a wooden toy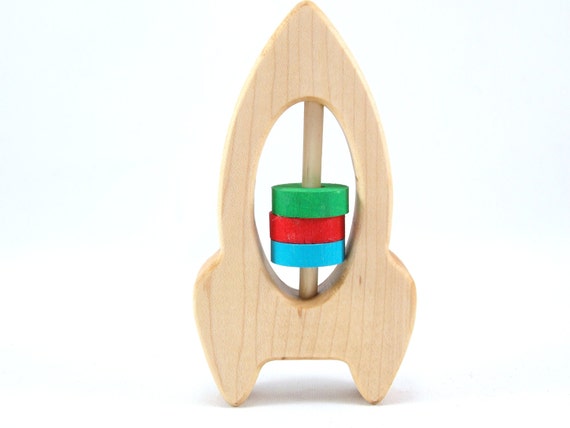 Swap plastic toys for wooden ones as much as possible in order to avoid harsh chemicals (just make sure the wood is finished with natural paints or stains). These personalized organic toys, for instance, are just the cutest. They're totally safe for your baby to glom on to, in any way he or she wants. (Etsy, $18)
12. Chew on a Sophie
You know that Sophie the Giraffe is perennially popular. But did you know that she is eco-friendly, too? The Sophie teether is free of BPA and phthalates, and made from 100 percent natural rubber and food paint. (Babiees 'R' Us, $25)
This post was brought to you by Green Works.
More for new moms
Parents pull off the most surprising gender reveal yet
When you're sick, you should still breastfeed your baby
The only five things a new mother wants to hear