If you're a mom, chances are, you've spent a lot of time thinking you're not good enough. That's the plight of being a mom — you love your kids fiercely, but you're still riddled with crippling self-doubt. On this Mother's Day, it's time for a reality check: You really are a much better mom than you give yourself credit for.
How can I be so confident in saying this? I don't even know you, after all. But here's what I do know. I struggle with feeling like I suck literally every day. I watch other moms and am in awe of the little things they do. I would never look at any of these women and think that they're doing a terrible job.
They show up. They love their kids. They fail. They try again. And so do you. The next time you get down on yourself for snapping at your kids before bedtime, pull up this list as a reminder that you are doing more than OK.
1. You show up
Image: Giphy
Didn't I already say that? It's worth mentioning again. You can't call in when you're sick (or even sick of your kids). You put your best foot forward, and you're here in the midst of the chaos every day.
2. You see the big picture
Image: Giphy
If I learned anything by sobbing my way through the movie Boyhood, it's that the rewarding parts of motherhood have nothing to do with the big milestones. It's those little moments you have with your kids that no one else will share. Danielle Larkins of Tiny Trots says, "I embrace the little things — like when I see my kids go over to a hurt child on the playground and ask if he or she is OK, or when my son hugs and kisses his little brother even after he was bitten by him. These acts of kindness and empathy let me know I must be doing something right."
3. You dry the tears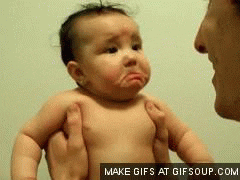 Image: Giphy
You might be sensing a theme here, and you'd be right. Motherhood isn't about doing anything epically special. It's about being in that moment with your kid when they need you the most. According to Dr. Jane Greer, New York-based relationship expert and author of What About Me? Stop Selfishness from Ruining Your Relationship, "If you're worried that you're not doing enough, know that you're a better mom than you think you are and keep in mind that you don't have to do anything — just being there for your kids works wonders. If they need a shoulder to cry on, if they're frustrated or sick, you're right there for them all the time."
4. You're the cheerleader

Image: Giphy
Who has two thumbs and thinks that everything her kid makes is the work of a genius? This gal. Patricia Di Gasbarro, founder and president of Shoosha Truly Organic, explains to SheKnows, "Your child feels emotionally and physically safe with you. They can get up and sing their heart out, dance full out, do any artwork at all, and you will always think it's the most brilliant piece of art you've ever seen."
5. You're the human Kleenex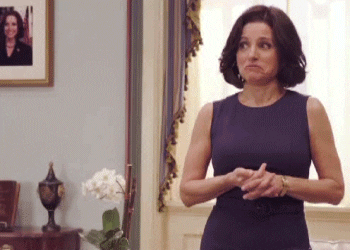 Image: Giphy
Were you born to be a Kleenex? No. But you have adapted to the role beautifully. Take a moment to give yourself a slow clap in the mirror for cleaning up more carnage than a crime scene cleaner sees in a good year.
6. You conquer your fears
Image: Giphy
To say that I was scared pants-less with my first kid would be an understatement. But I put one foot in front of the other and made it through that frightening first year, and so did you. Nicole Ryan, SiriusXM Morning Mashup talk show host and first-time mom, agrees: "I've never been so scared to do anything in my life as I was to become a mom. However, it turns out that the whole maternal instinct thing is real."
7. You "let it go"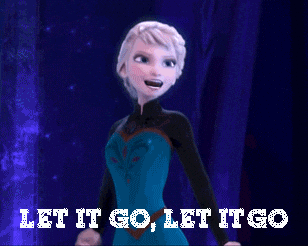 Image: Giphy
Just a few years into parenting, and I'm ready to drop the Stepford Wife act. These days, if we make it through the afternoon without a toddler Fight Club or a meal thrown on the floor, I feel pretty accomplished. Julie McCaffrey, Chief Baby Planner of BabyNav Baby Planners, adds, "Your baby doesn't appreciate if you are giving him store-bought baby food instead of organic homemade purees, and he doesn't care if his onesie matches his socks and he definitely doesn't care if you are teaching him sign language. But he does know you love him with all your heart and are there to protect him and care for him forever."
8. You think about your kids nonstop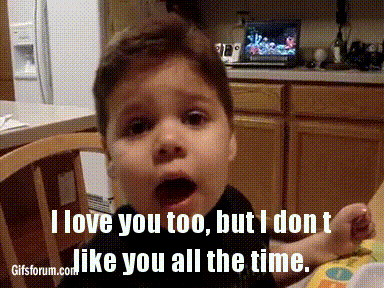 Image: Giphy
Every time I slip out of the house for an afternoon to myself, I inevitably find myself thinking about my sons. Am I crazy? Nope. I just happen to like them a lot. Akilah Serna, C.E.O. of Belly and Babe, explains how she stays connected with her kiddos during the workday, "I often find myself thinking about something funny they said or even something frustrating they did. It runs the gamut but usually ends up making me smile as I go through my day."
9. You make your family proud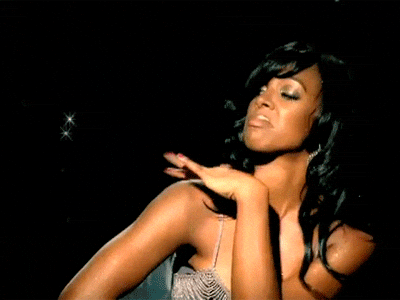 Image: Giphy
I know motherhood is a selfless job that isn't about the accolades, but I'll take compliments where I can get 'em. You know it, and I know it — when someone you care about pats you on the back for being a great mom, it makes your year. Serna says, "I knew I was a better mom than I often thought I was when my mother said to me how proud she was of the wife and mother I have become."
See Alice Through The Looking Glass in theaters May 27.
More on moms
Oversharing mom targeted on Facebook by "Mean Girl" friends
Breathtaking C-section scar tattoos
When you're sick, you should still breastfeed your baby