Bethenny Frankel is the type of fun, fierce and vivacious mom who makes you think it's really possible to "have it all." But even a successful mom like Frankel makes mistakes. In her new book, Frankel tackles one of the most difficult topics with her trademark honesty — how to bounce back from a failed relationship.
It would be an understatement to say that I am a Bethenny Frankel superfan. Not only do we share the same lovely name, but I have been an admirer of her brutal honesty, sharp wit and unexpected vulnerability for years. Getting the chance to chat with her and pick her brain about sucking at love, life and parenting made my year.
True to her reputation, Frankel was candid and full of life in our phone interview. When asked the tough questions, she bounced the answers right back without hesitation. It was almost like she'd done this before.
Frankel's new book, I Suck At Relationships So You Don't Have To: 10 Rules for Not Screwing Up Your Happily Ever After, debuts on April 7, 2015, along with her return to The Real Housewives of New York City. According to the best-selling author, business mogul and reality TV star, the now-single mother is a "disaster" at relationships, yet she still remains optimistic.
How does everyone's favorite Skinnygirl keep her chin up in a cutthroat dating pool? Frankel says that her biggest relationship takeaway so far has been to go with her gut. She explains, "You have to be more caring and careful in the beginning and go with your gut, rather than letting your head or your heart take you on a trip."
Even after a failed marriage, Frankel insists, "Positive energy attracts positive people. You can't beat yourself up, and you can't make decisions out of fear and say to yourself, 'Oh, I should be with somebody because I'm afraid I won't find somebody else, or because I'm getting older, or because my biological clock is ticking.'"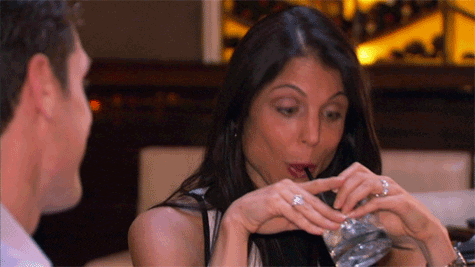 Image: Giphy
Though currently single, Frankel doesn't believe that dating as a single mom has to present a challenge — as long as anyone you date knows that your child comes first. "This sets the pace, and you need a pace because women tend to be very emotional and want everything to happen in one day. Having a child [while dating] shifts your priorities."
Is there a secret to success for dating as a single mom? Frankel keeps it simple: It's all about balance. She says, "It's not a terrible thing to talk about your kids lightly because someone [you date] should know that you're a mom, and if they don't want that, you might as well just weed them out right in the beginning. But there's something very attractive about a woman who's selfless because her kids come before her."
When it comes to balancing work, family and dating, Frankel brings up that magic word again: balance. When Frankel is with her daughter, her attention is completely on Bryn. When Bryn is at school, Frankel is able to focus on work and her personal life. She says, "It's very defined, and I feel very balanced. I don't feel torn."
So what have we learned today in the School of Frankel? Single moms who focus on their kids are hot. Everyone sucks a little at love, but there's always hope for the future. Balance is the closest that any of us are going to get to "having it all."
More on moms
Things moms should know before they have kids
Reasons moms are just like Disney princesses
Can vaccinating moms and non-vaccinating moms be friends?