Beer-shaped baby bottle: Hilarious or inappropriate?
Mar 3, 2015 at 10:00 a.m. ET
Parenting is a grind. If you can't find a creative outlet to inject some humor along the way, you're not going to make it very far. That's precisely why this "highly inappropriate" baby gift needs to be at the top of every new parent's registry, stat.
The utterly brilliant parenting gift in question is the Li'l Lager Baby Bottle. Yes, it is a fully functioning baby bottle. Yes, it looks just like a grown-up bottle of beer. Yes, you will get the stink eye and perhaps a stern talking to if you let your little bundle of joy drink from this beer bottle at the grocery store.
All I can say is that I am full of regret that my sons no longer take a bottle. Not only would I have been the evil mom who gave her babies poison formula instead of breast milk, but I could have done it in a bottle that looked like a beer.
But the show must go on. You'd better believe that I am going to be gifting this baby beer bottle at every baby shower from here on out. The super-offensive baby beer bottle is available on pre-order for only $12 from Fred & Friends.
Pin
(fredandfriends.com, $12)
Right now, the baby beer bottle comes in a BPA-free, phthalate-free 10-ounce size with a food-grade silicone nipple. But as other clever commenters have pointed out, it won't be long before your baby will be sipping on a forty of formula in a paper bag outside the day care.
Pin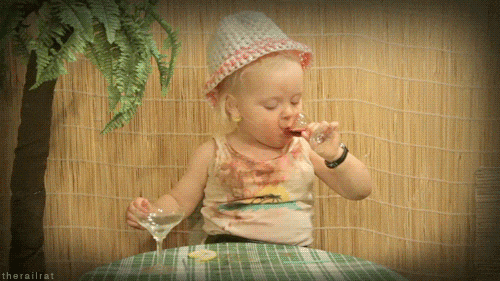 Image: giphy.com
All jokes aside, I would have absolutely, unequivocally used this bottle to feed either of my sons if it had been available just a few years ago. Sadly, most internet commenters don't feel the same way I do — with comments ranging from "shame on you" to "so wrong on so many levels" to "worst idea ever."
Here is my response: Simmer down. This gag gift does not intersect with reality. A parent who strongly desires to give their baby milk in a beer bottle (guilty!) does not really think it is OK to give a child alcohol. Besides, haven't we learned anything from the taboo alcohol culture that pushes teens to binge drink? Speaking from my own experience growing up in a strict Christian home, the hush-hush attitude surrounding alcohol made booze even more enticing.
Parenting can be much more enjoyable if we all lighten up. Instead of reading too much into one novelty product, see it for what it is. Babies drinking beer will always get a laugh — because it's a joke.
More on parenting
10 Things your baby does not need at his first birthday party
Teachers denying your kids access to the toilet are doing you a favour
Blake Lively gives her daughter a full-on boy name (and we kind of dig it)