Four hours of watching football is hard on the tiniest spectators.
Or maybe I'm just projecting my feelings onto toddlers. Look, I love football, but the whole ordeal of the "Big Game" is fairly exhausting. Four hours of commercials that aren't really all that funny. Thirty minutes of a halftime show with bad acoustics. Four hours of pretending like I care, when the Dallas Cowboys didn't make it past the second round of playoffs. (We were robbed.)
Anyway, I'm planning on using February's "Television Holiday" to play some games and eat some snacks with my kid. She's onto something when she starts flailing around on the ground during the second quarter, so here are a few ideas for each quarter of American gluttony and preseveration.
First Quarter: Get your app on
This activity has the promise of a craft-snack hybrid, which we all know is the best kind of craft. You'll just need paper, yarn and glue to make these cute football bowls with your little one. Fill them up with a favorite snack for extra enjoyment.
Second Quarter: Mix it up with a printable
Rain or shine, you can't go wrong with young kids and coloring pages. YesColoring has many football printables, including helmets for every NFL team your child might fancy. Print off a few pages and provide a few crayons so your kids can make it through the doldrums of the second quarter.
Halftime show: Step outside and play catch
Of course, a normal game of catch can work just fine. But when it comes to raising small kids, why do something easy, when you can do something so difficult? Just kidding. A football toss game, like this one from A Few Good Pieces, is more engaging for little ones than a normal game of toss. Plus, you can use the game for years to come.
Third Quarter: Give bingo a whirl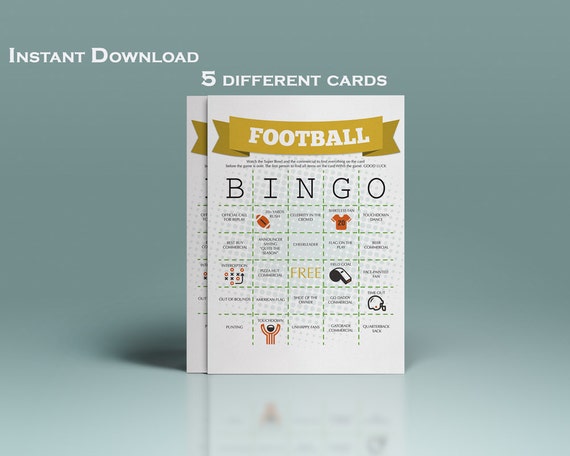 Bingo — like a coloring page — is a small child's dream come true. Print off a few football bingo cards for all of your guests, in order to keep the party atmosphere churning and little hands busy. (Etsy, $10)
Fourth Quarter: An ice cream sandwich chaser
Finish off the night with a delicious dessert that's easy enough for a child to assemble. You'll just need ice cream sandwiches, white icing and wooden spoons to pull off this recipe like the champions you are.
More about football
Almond football and macadamia football helmets tutorial
Football dictionary: Football terms for non-fans
Big-game activities that will score with your child