Every Halloween it happens — the eye-rolling and heavy sighs over those pesky kids with life-threatening food allergies.
Halloween is supposed to be scary. The kind of scary that startles you and gets your blood pumping without worrying about actually dying. We like this kind of scary. It's why roller coasters and haunted houses exist. It's fun to flirt with terror.
For some parents, Halloween is genuinely scary. When I took my son trick-or-treating for the first time, he was 18 months old. He'd just been diagnosed with a life-threatening peanut allergy. I ushered him from door to door without letting him out of my grip. His EpiPen felt heavy in my purse — a comfort and a reminder that one wrong move could land him in anaphylaxis. I felt like a total idiot hovering behind him and scanning every bowl of candy for the telltale orange of a Reese's cup or the sneakier Snickers logo.
"It's fine," people would tell me warmly. "He can take whatever he wants." I guess I looked like I was making sure he took only one piece of candy or used his manners.
By the time we got home that Halloween, the constant stage of vigilance left me bone-tired. In the eight years since that first scary Halloween, more people have become aware of food allergies — and more people act like they're the product of overprotective parents.
Meanwhile, I've been able to let my guard down only a little. My son is old enough to avoid the most common peanut candies when he reaches into the bowl. He knows not to bite his nails or put his hands in his mouth while he's trick-or-treating, in case peanut residue has gotten somewhere. But he doesn't have the ingredients of every candy memorized.
When I get home and examine all the candy, I'm not looking for poison and needles — I'm looking for a common candy ingredient that could kill my child.
I'm not asking you to avoid handing out candy with peanut ingredients. But next time you think a parent is being a special snowflake for freaking out about Halloween candy, consider how you'd feel if trick-or-treating posed an actual threat to your child's life. And before you tell me to keep my kid home on Halloween if I'm so worried, consider the fact that you're a giant a-hole.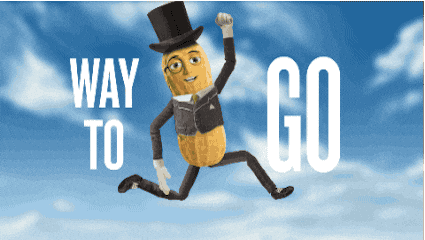 Photo credit: Giphy
As many as 1 in 13 kids have a food allergy. That includes many of the little ghosts and witches who will be knocking at your door on Halloween.
This year, Food Allergy Research & Education (FARE) has started the teal pumpkin project. I didn't think it would take off, but my jaded Halloween heart has grown several sizes. Many parents are opting to offer nonfood treats for kids with severe allergies. If you want to chip in, there's still time to print out a sign, buy some cheap stickers or party favors and spray-paint a pumpkin teal.
You don't need to offer alternatives to kids, but have an open mind when you see a kid carefully picking through your candy bowl.
More on allergies
How to safely send your child to school with medication
How to handle food allergies at school
Signs of food allergies in kids