6 Sex-after-birth problems all new parents encounter
Mar 26, 2015 at 8:30 a.m. ET
Yes, it is possible to have a good and even great sex life after having a baby, but don't expect it to come easy. Your body and your lady parts will inevitably change after popping out a kid. Once you know what weird stuff to expect, you can prepare for your comeback in bed.
I have two kids, and I still continue to have sex. It's like I didn't learn my lesson the first time. (Thank God for vasectomies, but that is a story for another day.) I learned the hard way that sex after kids is much, much different than sex before kids, but that doesn't make it all bad.
Take it from one sexually active mom, you can still happily bone after baby. There are just a few strange hurdles to jump before you get to the finish line:
1. You feel awkward
Pin
Image: giphy.com
"Ack! You saw me poop on the birthing table about two months ago. That is not hot. That is not hot at all." If these thoughts are running through your head on a loop, not to worry. You are perfectly normal, according to Dr. Mary Jo Podgurski, RNC, EdD, LCCE, FACCE, childbirth and sexuality expert at Lamaze International.
Dr. Podgurski advises, "Intimacy and sex will ebb and flow after childbirth: Communicate openly with each other about your needs and desires. It will form a closer connection before the physical experience."
2. Your lady parts hurt
Pin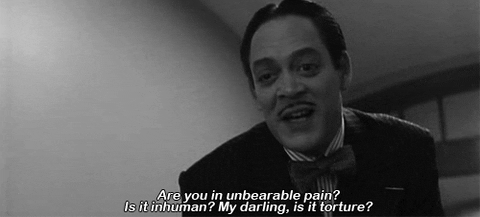 Image: giphy.com
Yup, this is going to happen after vaginal labor, once the whole pushing-a-watermelon-out-of-a-keyhole phenomenon has occurred. Your doctor may give you the all-clear for sex at six weeks postpartum, but residual soreness can take time to subside.
Amy Levine, sex coach and founder of Ignite Your Pleasure, shares her helpful after-birth hack, "Try freezing sanitary pads with witch hazel (like vodka, it doesn't actually freeze solid but provides relief in the healing process) to pop into your panties when you need a cool sensation to relieve discomfort." And if your body doesn't feel ready for sex yet, talk with your doc before jumping back in the sack.
3. Your boobs are all squirty
Pin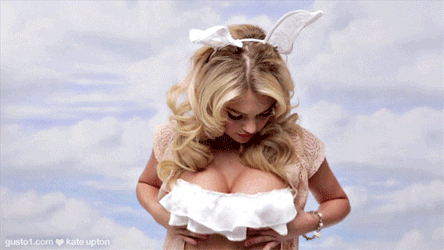 Image: giphy.com
Breastfeeding moms trying to get laid, boy, do you have my sympathy. I have been there in all its milky glory — twice. Leigh Anne O'Connor, IBCLC, parenting expert and private practice lactation consultant, confirms, "It is not uncommon for moms to eject milk when they are aroused or have orgasm."
If leaky boobs take away from the heat of the moment, try wearing sexy lingerie to keep your milk bags contained. A flattering, lacy bra can pump up your bedroom confidence and keep hands off your sore boobs.
4. Your body has turned against you
Pin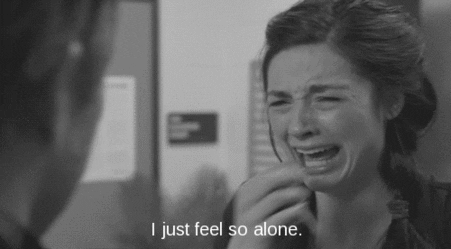 Image: giphy.com
Suzanne Olds, Ph.D., founder of After Nine Tonight, tells SheKnows that it can be a major blow to the ego when your post-baby body is still in the "recovery phase." She says, "Navigating your post-baby sexual encounters can certainly present some challenges. You may have leaking breasts, decreased natural lubrication, a flabby tummy and maybe even hemorrhoids to boot."
Her answer? Lots of laughs and more sexy lingerie: "Humor is definitely in order — and some lingerie with a lot of coverage!"
5. You're as dry as the Sahara
Pin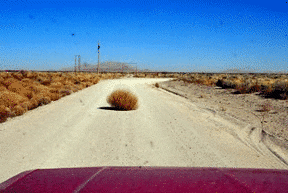 Image: giphy.com
Olds calls "decreased natural lubrication" a normal post-baby sexual challenge that most new moms will encounter. Taylor Stokes, a sexpert at Free Your V, considers vaginal dryness to be a potential problem for all women. She explains how detrimental this bedroom concern can be, "Anxiety about their level of wetness causes many women to avoid sex or feel self-conscious during the act."
Dr. Chris Donaghue, one of the few certified sex therapists in the U.S., host of WE tv's Sex Box, Logo's Bad Sex and author of Sex Outside the Lines, provides hope for that postpartum dry spell, "Hormonal shifts may also mean vaginal dryness or pain. Keep the lube nearby as this may need to become your new best friend. With enough relaxation, pleasure and lube, sex will still be fun. But pay special attention to pre-penetrative sex. More affection, oral sex or breast and body play will allow for the needed time to become fully aroused and better able to be vaginally penetrated, if this is the type of sex you enjoy. If penetrative sex isn't feeling as pleasurable, then focus more on oral and anal or clitoral play."
6. Your baby is out to get you
Pin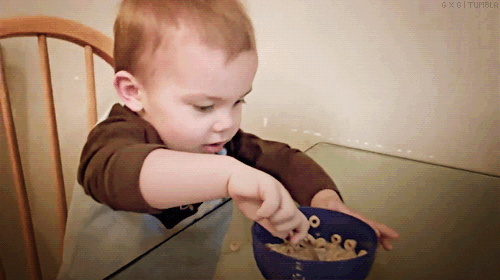 Image: giphy.com
Do you ever have that sneaking feeling that your baby waits until the second you relax to let out a squawk? Exhausted new parents, it's not just your imagination. Babies pick the worst times to wake up in the night, like the moment you round third base. O'Connor confirms, "It is not uncommon for babies to wake as soon as parents do become intimate — it is as though they have radar!"
Belah Rose, podcaster and author of Delight Your Husband, shares her secret to great post-baby sex, "Teaching your child to sleep is the best gift you can give to your sex life. I am serious. Both of my kids learned to sleep through the night within two months. Only because I was very motivated to ensure my marriage stayed strong amidst the stresses of raising babies. A healthy relationship will give your child exponentially more than your tired, weary self can give with a strained (or non-existent) relationship. I have two precious boys under two and still have a fab sex life! And it's because I taught them to sleep. A lot."
More on sex
21 Crazy sex toy facts that will make great dinner party conversation
Your sex number doesn't matter — 4 myths we have to stop believing
8 Dating tips from an ex-crazy single girl