Creative flower giving ideas
Aug 29, 2008 at 4:19 a.m. ET
There are many occasions where giving your partner flowers is the perfect mode of expression. Sometimes though, the regular bouquet seems a like a cookie cutter romantic idea. To help break the mold try one of these reader's creative ideas for giving flowers!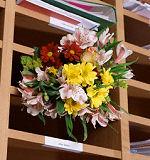 Cookie Bouquet
My significant other loves chocolate chip cookies, so I sent him a bouquet made of chocolate chip cookies instead of flowers (the florist was so creative!). They were delivered to his office mid-morning of his birthday, so that he could enjoy them throughout the day!
--submitted by Deborah
This Bud's for You
My boyfriend gave me a Budweiser bottle that had a white rose in it for Valentine's Day. It had a card that said "This Bud's for you!" It was really cute.
--submitted by Krystal
Special Delivery
I had just moved into a new apartment and my girlfriend was over for the weekend. I left, telling her I'd forgotten a shirt at my old apartment. I got the shirt, but I also stopped and ordered her roses. I had them delivered to my new place later that day while we were just chilling for the day. When the door rang I made her go answer it. The look on her face when she came back, roses in hand was priceless.
--submitted by Esley
Pop-Up Flowers
I went to a magic shop and bought some of those paper flowers that magicians pull out of their sleeves. I sent them in a letter, so when the (cardboard) envelope was opened, VOILA - flowers.
--submitted by Kate
Congratulations Bouquet
I was competing for a manager's job against this woman who hated me and who really wanted this job as well. When they named me for the position, my husband sent me a dozen roses. On the card he had written: "To the best woman in the world. I knew you had it in the bag." He didn't sign it though, so everyone at work was going crazy wondering where those flowers came from, including that nasty other girl! It was an awesome day!!!
--submitted by Margie
Bed of Roses
I came home from work one time to find my door open and candles burning everywhere. Sarah McLaughlin's song Angel was playing on my stereo and there was a trail of rose petals leading into my bedroom. When I opened my bedroom door, rose petals were formed into a heart shape on my bed. In the middle of the heart were a dozen long stem beautiful roses with a card. This was all "just because."
--submitted by Nina
Thinking of You
Every once in a while, when I go to my car, there will be a single red rose lying on a windshield wiper from my boyfriend.
--submitted by Emily
Hidden Roses
Valentine's Day had fallen on the day I normally do laundry. To my surprise, my husband had hid a dozen roses in the washing machine for me and in the dryer were my favorite chocolates. I about cried when I went to do a load of wash and there they were. I thought he'd forgotten about Valentine's Day!!
--submitted by Danielle