Unfortunately, in order to meet Mr. or Mrs. Right we have to go through a few toads. If you've ever experienced the date from hell, you'll appreciate the following worst date stories!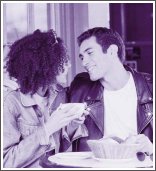 If you think your date was bad…
"I met a man for a blind date from a classified ad. We realized early on that there wasn't enough in common to pursue a relationship, but we were having a nice time, (I thought) and enjoyed each other's company. We had planned to meet for drinks in the bar of a restaurant and then move to the dining room for dinner. He closed the drink tab and stood, in the middle of conversation, I thought to get a table. Then he shook my hand, told me it was very nice meeting me, and walked out and left me sitting at the bar with a full drink. I could have died of embarrassment." -Abandoned
"My worst date was definitely the first time I met someone who I originally met online. We power-chatted online for months, he mailed me pictures and he looked quite attractive. I was truly looking forward to meeting him, but what a disaster. When I arrived at the restaurant where we were scheduled to meet, he was a full foot shorter than me (when he told me he was 8 inches taller). He was completely bald (unlike his pictures), and was at least 15 years older than in his pictures (which he 'forgot' to mention). What stunned me the most though, was his dialysis machine!!! I have nothing against people with kidney problems, but I think that is something he should have told me! Anyway, being the nice person I am, I sat down to have dinner with him, and tried to be non-confrontational, but let him know I didn't appreciate his dishonesty. He apologized and I figured I'd make the best of the date, since he had flown 2000 miles to meet me. But here's where it gets totally insane. Towards the end of the date, this woman walked up to our table and introduced herself as his wife!!!!!! I nearly choked! She smiled and sat down, and the two of them went on to inform me that SHE is dying of cancer, and wants to find a woman to marry and take care of her husband so she can die in peace!!! She thought I'd be perfect. Needless to say…that put me over the edge. I thanked them for dinner, wished them luck in their search, and left. Maybe it's mean, but I never talked to him again. YIKES!!! Luckily I was brave enough to agree to meet other guys in the future, and they have all been great! :-)" -Lisa
"We were at the theater at that time. I excused myself for a while to go to the ladies room, but when I came back he's kissing the girl sitting right next to him. What I did is throw a box of popcorn on their heads and told him looooossssseeeerrrrr!!!!" -Leanna
"On my first date with this guy we went to the movies. Everything was fine until after the movie, when he lost his balance and collapsed right in the middle of the movie theater entrance. Ambulances and all. That was truly my worst experience." -Anonymous
"My worst experience on a date was, when the end of the night came and I asked my guy if he wanted to come in for awhile and he agreed. We started to make out and when things got all hot and heavy, and we were about to have sex he pops out with, "I am half Filipino, so I am really small! I hope this does not matter and I hope you can feel at least something!" That was a complete turn off and I told him this, and that I no longer was in the mood to have sex. And that all of a sudden I felt really tired and that he should leave. I felt bad about it, but God that is not something you tell someone when you are about to have sex!!!!!" -Jess
"My worst date experience was sitting in a park, doing nothing, and saying nothing, until he asked for a blow job on the FIRST date!" -Kayla
"After being introduced to a male friend's buddy, we made plans to go out to dinner and a movie. We had a nice dinner at a local outback-style restaurant and headed to the movies. Our local police department was holding a DUI checkpoint on one of the local thoroughfares, and as we approached my date jokingly suggested we switch places. I thought nothing of it and as it is usually my luck, we were stopped for the "routine check." Neither of us had been drinking, so I assumed it would be a quick in and out…I was wrong. It seems this guy owed back child support from one of the three illegitimate children he had fathered and the system had revoked his license. The police department impounded his truck and left us to walk…I didn't even know he had one child, let alone three…not to mention the fact that he owed back child support–what a winner!" -E.
"I was out with my ex. We went to the movies and saw some girl that he thought was prettier than me. Then when the movie was over she went over to me, slapped me and started to curse at him and I. At the end I found out that she was his girlfriend. That was really upsetting to me and my worst experience at dating." -Tonya Holm
"When I was 18 years old I met a guy named John. He was really sweet until I went on a date with him. Our date started with Taco Bell. I was embarrassed, and of course, while we were eating he had the urge to make strange voices and play with his food. He was really weird. Later that evening we went to his house. He asked me if I wanted to go swimming at the private beach. I told him that I would, but I didn't have a bathing suit with me, so he let me wear a pair of his shorts and a T-shirt. Here we were at the beach in the water when suddenly he took his shorts off. At first, I didn't realize it until he told me he was naked. I thought in my mind, what is this guy desperate? Maybe he was just not all there, or maybe he thought he was going to get somewhere with me. After he told me that, he asked me to put my hands you know where. At that point I was grossed out. I barely knew this guy at all and here I am with him at a private beach and he has his shorts off. So I had enough, I got out of the water and went to go and get my dry clothes. Here is this weird guy following me. He saw that I went to get my clothes. I had to have him unlock his car so I could get them. So, I grabbed my clothes and was going to change, when I glared at him hinting for him to turn around because there was nowhere to change. We both faced different directions, I started to take the wet clothes off and quickly put on the dry ones, when I caught him peeking at me undressing. I was really angry then, especially after being in the water with him and he had the nerve to try to sneak a peek. I turned and faced him and said a few nasty things. Then I had him drive me home." -Kristi
What are your thoughts?
What was your worst dating experience? Click here!
Related Articles
• Ending A Bad Date
• First Date Do's and Don'ts