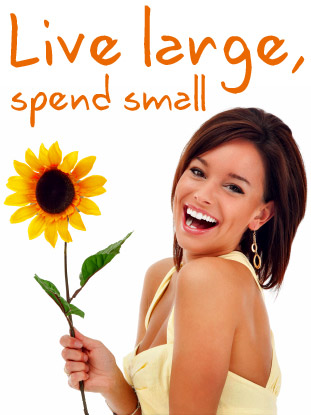 Live large, spend small.
Sounds simple enough, doesn't it? But if you've actually tried it, you know: it's a lot harder to put into practice than you'd imagine.
You can do it
You've heard the adage, "The best things in life are free." Well, we believe that — but also think that there's still lots of really good stuff that's affordable, if not downright cheap.
Whatever your hope — whether it's to turn your so-so home into a heavenly haven, if you want the kind of style that suits your inner diva, or your goal is to eat exquisitely each night — we have tips and tricks, ideas and innovations to help you get there… without breaking the bank!
---
Luxe home on a budget
Your whole home
5 Ways to make your home a sanctuary (on a budget)
Beautiful, soothing indoor fountains
Decorating with what you have
Inexpensive decorating & organization solutions
Bathrooms
How to update old fixtures on a budget
Bathroom makeovers: Create a spa sanctuary at home
Bedrooms
Seasonal
10 Budget-friendly ways to decorate your home for summer
Cozy home décor: Warm up with textiles
Outside
Creating an outdoor oasis on the cheap
---
Fab (but cheap) Beauty & style
Beauty basics
Hair
How to save on hair products
Board: Haircare and hairstyles
Makeup
How to turn your drugstore makeup into luxury beauty
Save or splurge: Eye makeup
Fashion & style
How to find designer kids' clothes on a budget
---
More ways to save & spend smart
How to turn your "stuff" into cash
Board: Freebies, coupons, contests & ways to save
Freebies, coupons, contests & savings blog
Shopping
Tips for shopping on a budget
Teaching kids about money
Flea market shopping: Finding hidden treasures
Our favorite coupon sites
---
More ways to live well for less
Love & romance
Food
Travel
Fitness
The best at-home workout