Any fans of HGTV's Property Brothers, Drew and Jonathan Scott, out there? OK, OK, we see you. Well, Kohl's has news that'll make your week (and give you a reason to hit up the store today): Kohl's just launched an exclusive, luxurious-yet-affordable home lifestyle collection, Scott Living at Kohl's.
The product line is divided into two collections, Luxe and Oasis, each with their own, unique aesthetics. Oasis, for example, is for those who need a little zen in their lives. "The Oasis collection provides a version of escapism in the home by leaning into natural and earthy tones, hits of metallics, and ultimately creating a light, fresh, and relaxing atmosphere," the press release sent via email states. Luxe, however, takes a much more playful approach, described as "modern sophistication," "harmonizing both playful and luxurious elements, merging experimental texture and color combinations with rich textiles and opulent metallics." They they take different approaches, both are equally as luxurious and very affordable. What's even better is you can easily mix and match products from either collection — both of which include home and kitchen décor, furniture, bedding and bath, and even holiday décor, like ornaments.
"We are excited for the opportunity to collaborate with Kohl's to create a lifestyle brand that allows families to outfit their homes with our exclusive furniture, bedding, bath, home décor, and more," Jonathan tells SheKnows.
"Scott Living incorporates modern, stylish home design without sacrificing the functionality and value we know families need, and we're thrilled to work with Kohl's to bring this to life for customers nationwide," Drew adds.
Drew's favorite items include any of the metallic lanterns found in the Luxe collection. "Don't be afraid to use color! You don't have to go big to make a statement – use accents to make your details pop," he says. "A touch of metallic helps elevate any space."
Gold metal wire lantern, $44.99 at Kohl's
Drew also recommends opting for a variety of colors and textures in your space, as it helps "make it easy to change things up," he says. "I'm a fan of vibrant patterns are a great way to breathe life and interest into a room. Whether it's in a rug, artwork or throw pillows, I love playing with patterns to create depth and personality in any space."
16-piece dinner ware set, $130.00 at Kohl's
Jonathan, on the other hand, is all about stylish storage: "Mix textures and colors for extra interest."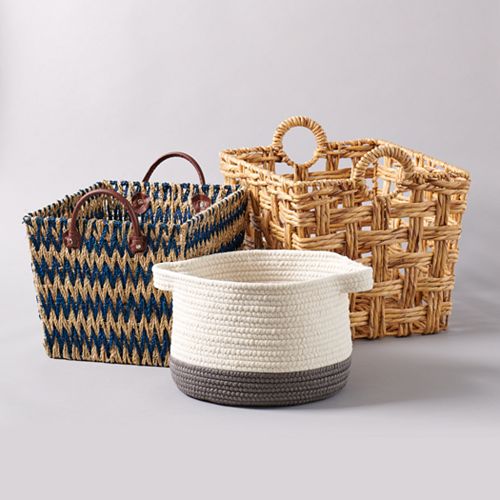 Image: Kohl's.
Chevron seagrass basket, $44.99-$66.99 at Kohl's
Below, we've rounded up a few of our favorites from the brothers' Kohl's collection.
Luster glass faceted vase
Oasis luster glass faceted vase, $23.99-$26.99 at Kohl's
Accent chair
Oasis chatham accent chair, $299.99 at Kohl's
Oasis Cabo nested tables
Oasis Cabo nested tables, $299.99 at Kohl's
'Merry' sitabout
'Merry' sitabout, $22.49 at Kohl's
Our mission at SheKnows is to empower and inspire women, and we only feature products we think you'll love as much as we do. Please note that if you purchase something by clicking on a link within this story, we may receive a small commission of the sale.