You know that one friend who always seems to have flawless, thick and voluminous hair? Well, I'm gonna let you in on a little secret. There's a 99 percent chance she has plain ol' thin hair just like the rest of us. The only difference between her and us is she knows a thing or two about making thin hair appear way thicker than it actually is.
So what are some of the tricks she's using? Luckily, I know a few of these all-knowing beauty secret goddesses, so I tapped them for some of their best tips.
1. Use texturizing spray
Let texturizing spray and mousse products be your hair's best friend. It will help to hold your style while also giving you the bonus of added volume. Just make sure not to overuse it, or it will weigh down your hair.
2. Add layers
The key to giving thin hair dimension is layers, layers, layers. Experiment with bangs. Try long layers. Go short and choppy. Whatever your look, there's a layer for you.
3. Use your fingers
Instead of using a brush while you blow-dry your hair, use your fingers for the first 90 percent of the session. It will add volume and decrease the chance you will break your hair while drying.
More: The Most Flattering Hairstyles for Round Faces Are Not What You'd Think
4. Use Velcro rollers
Remember these little monsters that used to give you Shirley Temple curls and make it impossible to sleep?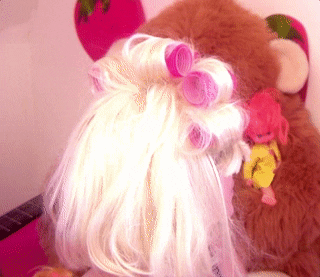 Yeah, well, forget about them. Those are the rollers of the past.
These Velcro beauties are where it's at now. Get volume and long waves without yanking out all your hair in the process.
5. Get the right products
Cheating the thin hair game starts with healthy, growing locks. And the foundation to healthy, growing locks is a smart system. You wouldn't go out in the sun without sunscreen and expect to be wrinkle-free, so don't expect thick hair without using a good base, like the Aveda Invati system.
6. Get a balayage
Just like a cut is important for your thin hair journey, so is the color. Monotone colors lead to one-dimensional hair. And one-dimensional is just another way to say "flat." Whomp-whomp.
The upside is that means you get to add some color into your life. My personal fave is the balayage, which is a painted highlighting technique that will leave your hair looking natural while still turning heads.
7. Pancake that braid
Whether you're doing a twisted updo or a braid crown, your work isn't finished until you've pancaked.
What is pancaking you ask?
It's the hot braiding technique in which you loosen the strands of your plait to give your braid a fuller, more voluminous appearance.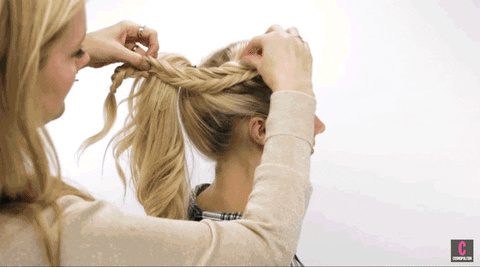 8. Take biotin
My good friend, blogger Sakura Considine, swears by the supplement biotin for hair growth. And, well, I mean, just look at her freaking hair.
9. Use the toothbrush trick
Ariel might have been onto something when she experimented with using her fork on her hair.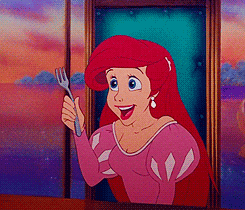 She just picked the wrong household item. Use a toothbrush (preferably a new one and not your roommate's when you're mad she ate your chips) to back-comb your hair into volumed perfection.
More: Let's Weigh the Pros and Cons of Hair Extensions Before You Drop a Small Fortune
10. Find a cut
The right cut is everything. For thin hair, it's often recommended that you keep the style short and layered, which is great too, because generally, that means a cut that's easy to style and maintain.