Open-layout floor plans are especially trendy right now, and there's a reason for that.
In fact, designer Mikel Welch, host of Mikel's Design Corner on Steve Harvey, says there are several reasons open floor plans are still holding strong.
He says they offer a flexibility of space you just don't get with traditional floor plans. They also give homeowners the bonus of extra light and a space built for entertaining.
More: 9 emotional phases everyone experiences during a home makeover
But still, those wide open spaces come with their own unique challenges, especially when it's time to decorate.
"As a designer, I find that homeowners become stifled in their ability to decorate with an open floor plan. Many families face the dilemma of how to properly utilize an open space and often wonder where to begin," he said.
Welch pointed out that some of the greatest challenges include creating division between areas of the home, making a cohesive design throughout the space, choosing colors and furniture that fits and keeping the home organized and tidy while everything is exposed.
Fortunately years of experience have given him a wealth of knowledge when it comes to working through these challenges.
Color
Painting an open floor plan can present several challenges. Do you paint it all one color? Do you try to divide the space with different colors?
"When designing an open layout, one of your greatest allies is your paint color selection," said Welch. He suggests limiting your color choices to neutral tones of white, beige, brown, gray, black and navy.
More: Things to consider when buying a new bed
"Several brightly colored walls can become distracting. Neutral shades will allow you to decorate two or more separate spaces while giving the appearance of coordinating within one large area," he added. "Furthermore, choosing one wall color will make for a cohesive design that tells the same story throughout the home."
For a pop of color, he recommends you stick to artwork and decor. This is where throw pillows, area rugs, bright chairs, vases and other fun additions come into play.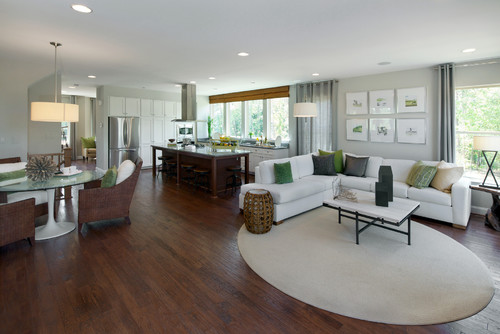 Furniture
When you have a big, open space to decorate, you start envisioning tons of large, bulky furniture. You definitely want to take a pause when making your selections, because while you do have lots of room, you don't want it all to be taken up by furniture.
It's also important that you don't get too many pieces or pieces that are too large. Too much of that, and walking from room to room will start to feel like navigating an obstacle course.
Welch says that making the right furniture choices offers a solution to one of the largest open layout issues — storage.
More: How to buy furniture: 11 savvy secrets from decorators
"With an open layout, everything is exposed, so finding storage solutions is key," he said. "To address this issue, select oversized pieces of furniture that can serve several purposes. For instance, you can use a large dresser for storage in the living area and let your TV rest on top to create a dual-purpose entertainment center."
Rugs
There's been a lot of talk about bringing the space together with an open layout, but it's also very important to separate the spaces. It's important to define each area of the floor plan and make it clear where one area ends and another begins.
"One of the easiest ways to decorate an open layout is to actually start with division. Believe it or not, defining each area of an open layout will make the design process easier to manage," said Welch. "I generally use a rug to signify an area in the open layout. A rug will ground a space within your design and cause you to create separate areas within your open-design floor plan."
Room dividers
If you have a space that's just too wide open for your taste, there are many ways to break up the openness without hiring a contractor to build new walls. Welch recommends using open bookshelves, drapery or objects like leaning mirrors to give you makeshift room dividers that actually add to the look of the room.
This post was sponsored by Value City Furniture.