The fall 2015 runways were full of shoe trends that can turn heads — with thigh-highs, intricate patchwork, furs, oddball details and color blocking.
The best part? There's no heel required. I mean, sure, most women know the joy of a fabulous heel, but these 12 looks prove that flats have their place in fashion, too.
1. A fringe trend
Fringe is great, but tiny pom-pom detailing is even better. These persimmon flats ought to do the trick. (Figue, $100)
2. Suede riding boots
Knee-high boots often come with a bit of a heel, but there's no need for one with these stunning suede riding boots. They look great over a colorful pair of skinnies for when the weather turns chilly. (Chinese Laundry, $120)
3. Subtle color block
If you're sold on color blocking, you can go big and bold with primary colors. If, however, you're looking to wear the trend a little more subtly, these brown and pink color-blocked flats are perfect for you. (OnlineShoes.com, $130)
4. Inspired loafers
Menswear-inspired shoes are hitting their stride this fall — and it's easy to see why. A pair of retro, glossy loafers like this pair is perfect with a slim-fit trouser and a bold lip color. (Bloomingdale's, $125)
5. Sweet Mary Jane
You can't go wrong with a sweet and trendy Mary Jane, paired with either an A-line skirt or a comfortable pair of classic blue jeans. (Free People, $128)
6. Golden and jeweled
Grab these golden flats to wear during the last days of summer and don't be scared since they transition beautifully into fall. The metallic motif is great for cooler weather. (Francesca's, $25)
7. Florally yours
The femininity of this floral shoe is offset by the casual espadrille sole and the black piping. We love these with your favorite pair of boyfriend jeans for a comfortable weekend hopping around town. (Kurt Geiger, $150)
8. Wrap-around flats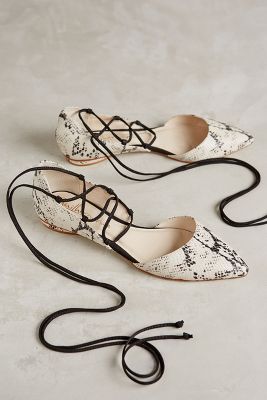 The pointy toe and snakeskin of these flats give the pair some edge, but the wrap-around detail is enough to make you look like sugar and spice and everything nice. (Anthropologie, $188)
9. Peep-toe with rosette
Go ahead and pretend that these delicate black flats with the peep-toe and carved rosette haven't totally stolen your heart. We'll wait. (Saks Fifth Avenue, $110)
10. Western bootie
A little bit patchwork and a little bit rustic, this casual flat is an awesome and cozy update to the trendy bootie. Wear it with a solid black maxi dress and a poncho for a look that's just begging for a mug full of hot chocolate. (Nordstrom, $49)
11. Bold and studded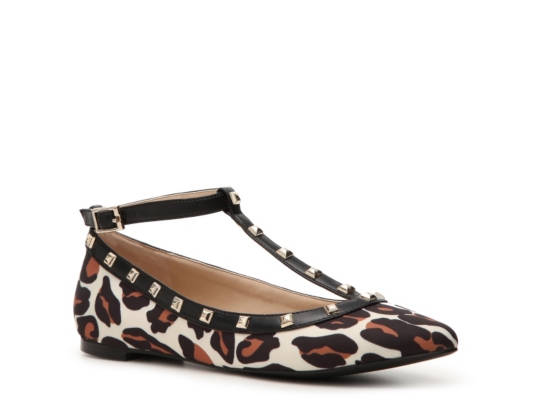 An animal print shoe is bold. A studded shoe? Forget about it. You'll get compliments like whoa. (DSW, $45)
12. Bold and bowed
The teal of these flats can brighten a dreary day, but the pair really turns into something special with the addition of two adorable bows. (ModCloth, $40)
This post is part of a sponsored advertising collaboration.
More about fashion
Men try wearing bras with hilarious results (VIDEO)
3 Fun ways to make your own headband
5 Jewelry holders that are cute and functional