"Vignette" sounds fancy, but it's simply a collective display of items. Using stuff you already have around the house, you need just 10 minutes in each room to create something fabulous.
1. Create a formal living room vignette
In your adult-friendly living room, gather your favorite collectibles to display on a coffee table, side table or fireplace mantel.
Anchor the surface. For color, use a tray, a placemat or even a large coffee table book. If you prefer shine, start with a round mirror or a mirrored tray.
Add height. A formal vignette provides the perfect opportunity to bring out that gorgeous crystal vase you received as a wedding gift.
Counter the height. Use other items to complement the tall decor. A short stack of small books or pile of clever coasters does the trick.
Balance it out. Add a miniature globe, large seashell, decorative clock or beloved framed photo to round out the mix.
More: 9 Unique ways to add style to a coffee table

2. Create a casual family room vignette
In an oft-used family room space, a vignette is more about function. An ottoman provides the perfect surface for a collection of must-haves.
Start with a tray or basket. The key is to provide a firm surface on which to create your casual display.
Add some oxygen. A favorite green plant, a stalk of bamboo or some cut flowers give height and color to your casual vignette.
Corral disappearing items. Now that you've provided a fixed home for them, the TV and game remotes should never again go missing.
Throw in a few magazines. Family members and guests alike can enjoy easy access to the latest magazines.
3. Create a welcoming entryway vignette
Entryways can become cluttered eyesores. A thoughtful vignette will prevent this important space from becoming a dumping ground.
Let there be light. It's comforting to walk into your home and have immediate access to the soft lighting of a table-top lamp.
Provide storage. A cherished piece of pottery or a simple bowl welcomes keys. A basket is ideal for incoming mail.
Make it pretty. Add some seasonal decor, a few eye-catching books or a framed family photo.
More: Helpful "rules" for vignette styling

4. Create a personal bedside vignette
This space is one of the first and last things you look at every day, so it should appeal to your senses.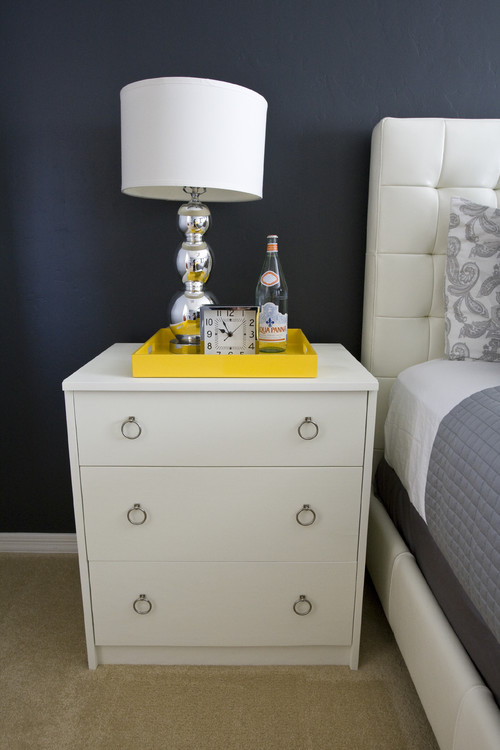 Keep it simple. A cluttered nightstand is not conducive to a restful night's sleep. Include only those items that serve a purpose.
Bring everything together. Again, a tray is a terrific way to anchor the space. (And it serves as an oversized coaster for your nighttime glass of water.)
Don't forget the necessities. A lamp, an alarm clock, reading glasses and some reading material are all you need to complete your bedside display.
5. Create a functional home office vignette
Your home office must contain specific items that make it work for you. And it should be an appealing space that you look forward to spending time in every day.
Aim for organization. You will find it easier to stay on task if everything is in its place.
Hide essentials in plain sight. Office supplies can be orderly and accessible at the same time. Use a coffee mug for pencils and a decorative bowl for binder clips.
Go silk for safety. Don't risk ruining important papers or electronics with water. Opt for a lovely display of artificial flowers over real plants for your desktop.
6. Create a charming bookshelf vignette
Bookshelves are one of the easiest areas to style. Alternating rows of books with pops of decor creates visual interest.
Lay them down. Start with a few books stacked horizontally among those that are shelved upright.
Add anything. On top of the mini book stack, place anything that tickles your fancy: a pillar candle, a photo frame, a miniature oil lamp. (The homeowners above used football decor!)
Change frequently. Bookshelves provide the perfect backdrop for ever-changing seasonal decor.
7. Create a guest bathroom vignette
A well-appointed vignette is a classy and considerate way to make your house guests feel at home.
Choose the appropriate flat surface. Like all vignettes, you'll start with a flat surface. Consider the vanity, a shelf or the back of the toilet as options.
Put yourself in their shoes. If you were a guest using a bathroom, what would you want or need?
Keep it together. Place your guest's supplies in one place so that she knows precisely what is there for her to use: a stacked towel set (washcloth, hand towel, bath towel), soap, shampoo and toothpaste. For a snazzier look, use decorative bottles and soap dishes for the display.
More: 13 Easy room updates that take 10 minutes or less
Practice makes perfect. Your first stab at a vignette will not be your last. Move items from one display to another until you achieve the look you desire. And have fun!