Fed up with clutter? Maybe your furniture is the problem. A few key pieces in each room will help you keep floors, tabletops and counters neat, tidy and clutter-free.
Unless you get to the root of your clutter problem, it will keep appearing in the same places over and over again. Do it right the first time, so you aren't forever moving, organizing and maintaining all of your "stuff."
The entryway: Stop clutter in its tracks
Ah, it's so good to be home. We dump our bags, coats, keys, shoes, umbrellas… Before you know it, you're stepping over stuff to get into your house because when there's not a specific place for everything, then anything can end up anywhere.
Many homes are equipped with an entryway closet. If yours is, then utilize it as such. Dedicate it strictly to coming-and-going items, such as coats, shoes, hats, scarves and gloves. Don't let its valuable space be used up for anything else (seasonal decorations, general storage, etc.).
No closet? No problem!
Image: Target.com
A simple coat stand takes up very little space and handles a surprising amount of stuff. A nearby bin or basket serves as a boot and shoe catcher. Using vertical space makes sense, too — like this wall rack with message board. (Target, $70)
Storage and a place to sit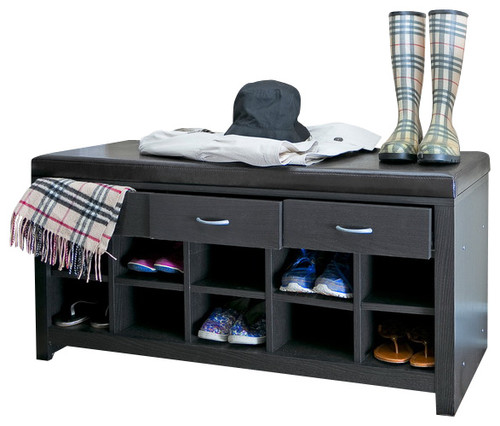 Image: Houzz.com
If there's room, add a storage bench. The bench will give your family a place to sit when removing shoes and a place to put those shoes so they're not lying all over the entry floor. Bonus: When you're in a hurry, no one should be yelling, "I can't find my shoes!" (Houzz.com, $184)
Sneaky storage
Image: IKEA.com
For narrower spots, a shoe cabinet may be just the ticket. It will hold plenty without jutting into your walking space. Add a basket or bowl to the top for corralling keys, mail and other potential clutter. (Ikea, $129)
More: 7 Home decorating ideas you're too scared to try
The kitchen and dining room: Make room for meals
Tables are meant for meals, not for your incoming mail, the kids' backpacks, your laptop… But unless you have other furniture or spaces to catch those daily items, they'll continue to consume prime real estate on your tabletops.
Reclaim your eating space one item at a time. If mail, school papers and magazines are cluttering your tables, create a new place for them. Don't remove them from the table over to the kitchen counter just to put them back on the table again. Look for storage furniture that will solve the problem once and for all.
Put the paperwork in its place
Image: Houzz
Paper clutter (like mail, homework) has a way of creeping up on you. Ideally, you would manage every piece as soon as it arrives, but if you're a stacker, then it won't be long before you're in over your head, again. Add storage that sorts in the very room where the clutter tends to accumulate.
Here, simple wall units let you sort papers by task (to pay, to mail) or by person (Mom's work, Suzy's school papers). Keeping the bins in an open, high-traffic area means that important documents won't be lost as "out of sight, out of mind." (Staples, $25)
The kitchen counter is not your office
Image: Overstock.com
And for that ever-present laptop, consider an adjustable mobile workstation. It's on wheels, so you can easily move your computer from one place to another. And it can adjust to let your work while standing, sitting or even reclining. (Overstock.com, $73)
More: 6 Smart decorating tips for renters: Make a temporary space feel like home
The family room: Hide it in plain sight
When you spend a lot of time in a particular area, stuff is bound to accumulate. Your main living space is like a magnet for clutter — it's your favorite place to hang out, so that's where most of the family's stuff will likely end up.
To some degree, your home should look and feel lived in. But when there's too much "family stuff" lying around, the room can feel chaotic and less comfortable. Fortunately, this is one of the easiest areas to tackle because a lot of family room furniture is created to provide storage.
Form and function, all in one
Image: Amazon.com
Why not start with a couch that features hidden storage? A sofa bed with a lift-up storage compartment is a great place to stash extra blankets and pillows. (Amazon.com, $399)
Customizable designs with plenty of storage space
Image: Wayfair.com
Storage ottomans are like the super-furniture of clutter control. They come in as many shapes, sizes, materials and colors/patterns that you can imagine. They're great for putting up your feet. They serve as extra seating. They make adorable home decor accents. But the most important feature is that they provide plenty of storage: for books, games, toys, remotes and everything else you don't want lying around. (Wayfair.com, $270)
Hide the technology
The family's technology provides its own source of clutter. Phones, tablets, earbuds and chargers are so easily lost or misplaced. "Furniture manufacturers are getting smarter and creating pieces that disguise storage and can be incorporated into living spaces," says Kelly Fallis, CEO of Remote Stylist.
Image: RemoteStylist.com
Imagine keeping all of that clutter in one home office E-charge center (in a gorgeous color, too!) that features five pullout drawers and two side doors all armed with one power bar. (RemoteStylist.com, $1,650)