The fashion finds this summer are totally hot — the sexy neon hair, the comfortable poncho and the creative nail art. Some guys, however, really don't seem to understand the trends that are commanding our collective feminine imagination.
I chatted with four different guys to get their take on the styles women are rocking this summer — and they seemed very confused — so I set them straight on exactly why these particular trends are totally amazing.
1. Pastel or neon hair color
Image: Martha Sarah/Flickr
Pastel and neon hair colors are en vogue right now, and men have taken notice. "I don't think I'd love the neon hair on my girlfriend or wife, but it's a very hot look," said Tom, a badass foreign business mogul (or so he tells me). "It says a woman is a little wild and she knows how to command attention."
Spot on, Tom. That's exactly why this trend is fantastic. It's sexy, wild and perfect for a hot summer night at the beach or a music festival. And even if you wouldn't love the look on your girlfriend or wife, maybe it's because the kind of woman who wears this look doesn't want to be your girlfriend or wife.
2. Burnout skirts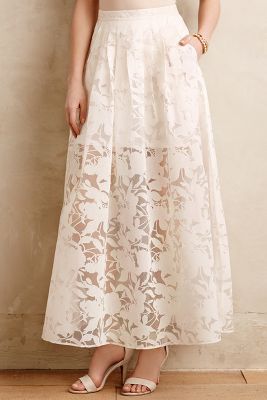 Image: Burnout skirt (Anthropologie, $100)
I loved what my friend Daniel, an emergency room physician/amateur comedy writer, had to say about burnout skirts. "These don't bother me," he said. "They're almost like tear-away basketball pants. Am I gonna wear a long skirt? Nah, I'm gonna tear this bad boy off and go short skirt!"
I can see where Daniel is coming from, but he's missing the point. Women don't wear these because they're reminiscent of multi-functional menswear. We wear them because they have the allure of a miniskirt without the requirement to shave our legs.
3. Jumpsuits or rompers
Image: Jumpsuit (Nordstrom, $68)
None of the guys seemed to love the jumpsuit or romper look. Zeke said, "They're not my thing. If women are going to rock this, they should just go full country with the cutoff overalls." Zeke is a realtor or accountant or something. I haven't completely figured it out.
But OK, I have to admit that I'll probably never wear a jumpsuit or a romper, but that's only because I'm over six feet tall and that would be asking for some serious cameltoe (just speaking the truth, ladies). But to Zeke I say this: You mention overalls like they're a bad thing. They're not. They require far less planning and agonizing over what to wear — which is exactly why women opt in to adorable weekend rompers.
More: Dear men, here's what we really think of your facial hair
4. Plunging one-pieces
Image: Braided one-piece (Victoria's Secret, $49)
A plunging one-piece is one of the hottest looks of the summer, in the opinion of both men and women. "It's a dangerous look," opined Daniel. "If you can pull it off, it certainly attracts attention, but I think a wardrobe malfunction is inevitable."
Oh Daniel, we wear plunging one-pieces for the exact opposite reason. Compared to a tiny string bikini or a halter top that's held up by a perilous bow, the plunging one-piece is far less likely to bare more skin than we'd like at the local pool.
5. Goddess headbands
Image: Rhinestone headband (Forever 21, $6)
Goddess headbands have a cool hippie-chic vibe, which is why I adore them with a casual sundress. The guys I talked with didn't really seem to understand them, though. "They're not terrible," said Tom. "But women look better without these things across their foreheads."
I bet Tom would change his tune if he knew the real reason why we wear headbands: To mask greasy hair and/or to dress up a ponytail that hides the fact that we haven't brushed our hair in three days.
6. Ponchos
Image: Summer Nights Poncho (Bloomingdale's, $53)
Ponchos? "Yeah, I could take that girl camping," said my friend Gavin, the first — but not only — Libertarian Air Force pilot I ever dated. Surprisingly, all the men I spoke with said that they'd love to take a poncho-clad woman on a camping trip, or sit beside her next to a campfire on a beach.
And this, my friends, is exactly why ponchos exist. We women wouldn't tend to wear a poncho out on the town, but they are a great way to look dressed up on a casual weekend while feeling as cozy as we feel while wearing a sweatshirt.
7. Lace-up gladiator sandals
Image: Golden knee high strappy gladiator sandals (Choies, $36)
The strappy sandal is a perennial hit with men and women alike, but guys seem to have a hard time understanding the lace-up gladiator sandal. "They're acceptable for a toga party," said Gavin.
I mean, yes, they are acceptable for a toga party. But they're also acceptable for any time we ladies would like to draw gaze to our lovely and shapely legs.
8. Colorful nail art
Image: Kara Endres/SheKnows
Zeke scratched his head with confusion when I showed him a picture of nail art. "Generally, nails fall on the bottom of my list," he said. "As long as you have nails I am probably good."
Zeke, we don't paint our nails for men. We paint our nails with fabulous designs in order to fill our hearts with colorful joy when we look down to see them while typing on a computer keyboard or chopping veggies. It's the little things in life that hold the key to happiness, obviously.
More about fashion
Lululemon misses the mark with their Ghana-inspired collaboration
6 Chic ways to wear orange this summer
Mastectomy lingerie inspired by cancer survivor is beautiful