Completely transform your home without spending a cent. Our free decorating tips will help you make the most out of what you already have.
1. Eliminate clutter
Image: Houzz
"Decluttering is the first step you should take in redecorating your space," says Kendal Perez, savings expert with CouponSherpa.com. "You may find that what's left is all you need to create your optimal space or that removing items creates room for furniture and decor from other parts of your home."
2. Move things around
Image: Houzz
"Moving furniture and accessories around within a room can completely change the feel without requiring new items," says Perez. Rearrange existing seating to create one or more conversation area, for example.
Shop other rooms in your home. "Vases, picture frames, books and even furniture can be moved from room to room to create or transform the look of each space," says Perez. Swap lamps, rugs or tables for instantly fresh decor.
And repurpose items to make them feel new. "Old stools or chairs can be used as shabby chic bedside tables," says Peter Boyce at Bedroom Storage Maker. "Or use a pile of old hardback books as a light stand." Perez agrees. "I use interesting wine bottles as vases or wine bottle corks as vase fillers."
3. Create free wall art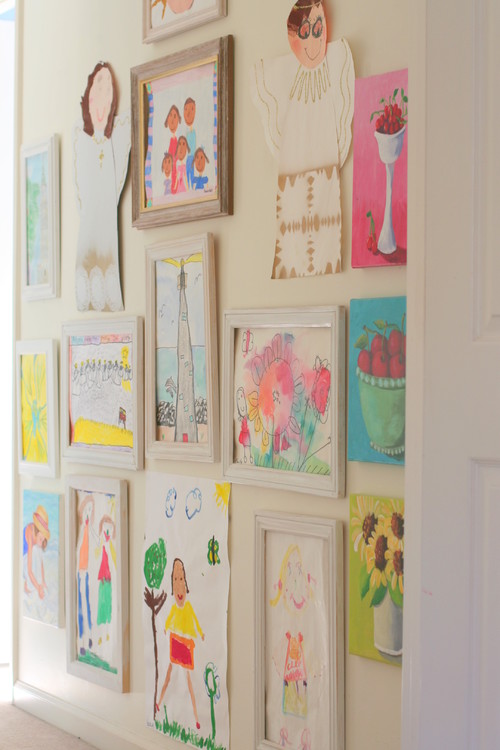 Image: Houzz
"Use anything interesting as wall art," says Beverly Solomon, creative director of Beverly Solomon Design. "Stretch fabric over cardboard. Frame a well-designed shopping bag. Display free promotional posters from shows, stores or boutiques." Other items to frame and hang include dust jackets from favorite books, charming old maps, leftover wallpaper and the kids' artwork.
4. Incorporate nature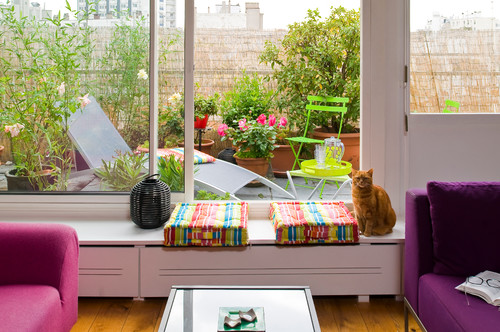 Image: Houzz
"Carefully arrange your furniture so that it does not block windows," says Solomon. "Trim trees and arrange pots outside so that the view through your windows adds to the decor of your interior."
And raid your backyard for free, natural accents. "Pick fresh flowers or native grasses from your garden and arrange them in vases for fresh and inviting decor," says Perez. "Collect seashells for a beach-themed guest bath or use pinecones for fall and winter decor."
5. Make a trade
Image: Listia
Listia enables you to walk your home and take photos of things you no longer want and put them up for auction. When someone buys your item, you get credits to shop other trades. Listia is 100 percent free and can be found on iOS, Android and the web.
More home decorating tips
13 Front door colors spotted on the Internet
11 Cool ways to use sunshiny yellow in your home
7 Home decorating ideas you're too scared to try