The line between science fiction and real life is rapidly blurring.
In case reports of self-driving cars and space elevators aren't enough to convince you, look no further than these 18 techie products for all the proof you need. Some products are for sale and some are just in development, but all are incredible.
1. Customized bots
If you fancy yourself a robotics genius, an EZ Robot is for you. You can purchase a low-cost robot and customize it to your needs based on what you want from the robot itself. Make yours walk, dance, socialize and interact with small, light objects. Even connect it to an app and watch its streaming video from your mobile device. (EZ Robot, $150 and up)
2. Aromatic television
For those who think entertainment should employ all the senses, you'll understand the appeal of Aromajoin. The device allows users to smell their entertainment while watching television or using a tablet. (Aromajoin, for rent only)
3. Voice remote
With the X1 voice remote from XFINITY, you can just say it and see it. Now you can use voice commands to change channels, search for shows, and even get recommendations. It listens and responds like the good friend it is.
4. Transparent television
Supposedly, your television isn't supposed to be a large component of your living room design. Michael Friebe's transparent television concept, however, will throw that design trope out the window. (Yanko Design, in development)
5. A flying car
A flying car is the centerpiece of every futuristic movie, and now it's closer than we imagined. This AeroMobil flying car is set to take off in 2017. (AeroMobil, in development)
6. Water-powered light
Why plug in a lamp when water is at your disposal? The WAT Lamp is an LED lamp powered by a small dose of water alone. (Yanko Design, in development)
7. Full-color 3-D printer
I still have a hard time believing that 3-D printers are real, but they absolutely are. And you can buy one. This 3-D printer actually prints in color, too. (Amazon, $2,872).
8. Gutter robot
Set the iRobot and forget it. Within a short period of time, this robot will make sure your gutters are clear of all debris. (iRobot, $300)
9. Heat-conducting butter knife
Who says technology can't help with the small stuff, too? This butter knife conducts the heat from your body to melt butter onto your bread for zero tearing. (That! Inventions, $20)
10. A running robot
This PhantomX Hexapod robot is the stuff that nightmares are made of. It runs! (Amazon, $1,200)
11. Modern campers
In case you feel bad about your 4-mpg mobile camper, check out the design of the Ecco. It's a camper that promises zero emissions and endless traveling possibilities. (NAU, in development)
12. Universal translator
Never before has it been so simple to translate so many languages. The Voxtec Phraselator makes it possible to dream of a world without language barriers. (Voxtec, $2,000)
13. A bladeless fan
A fan that's safe, quiet and efficient is the fan of the future. The Dyson 10-inch air multiplier certainly delivers with its clean lines and its effective use of power. (Amazon, $239)
14. Easy gardening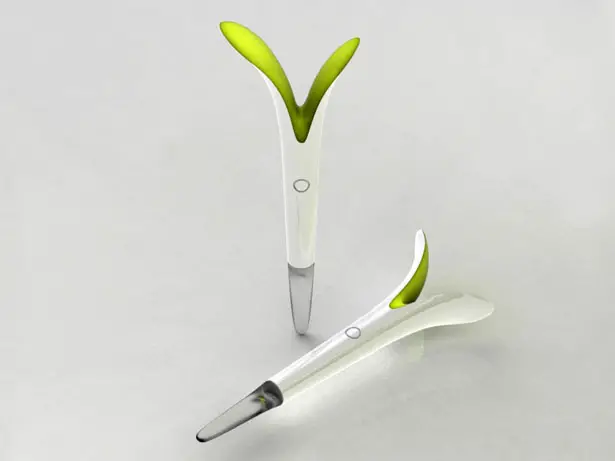 Houseplants quiver in fear when I approach in the store, but that trend may soon come to an end. The Meme's smart garden robots allow would-be gardeners to know exactly what their plants need. (Tuvie, in development)
15. A UV-sanitizing wand
This lovely little wand packs a powerful disinfecting punch. The UV rays disinfect the surfaces they touch, killing 99 percent of germs, viruses and micro-organisms. (Sharper Image, $100)
16. Portable solar power source
You no longer need to fear running out of batteries when an outlet is nowhere to be found. This power socket attaches to a window to re-energize your batteries with solar power alone. (Amazon, $17)
17. Robotic medical scanner
The GE Vscan is a tiny ultrasound device that medical professionals can use to quickly image and triage patients' medical concerns, even with no hospital in sight. (Medex Supply, $8,865)
18. Water-saving faucet
This gorgeous 1Limit faucet promises to save the world while looking like something out of a sci-fi movie. The design only allows users to wash their hands with as much water as is necessary for the task. (Yanko Design, in development)
This post was brought to you by XFINITY.
More from Living
15-year-old science intern discovers new planet
"Girl" scientists spin sexist comments into comedy gold
15 Awesome things every nerd girl must own