Your cats are members of your family — but you likely wish their litter box was not. If you want to reclaim your home from the tyranny of the litter box, follow these eight simple steps for an organized and fresh space.
1. Start with a compact closet
If possible, keep your cat's litter box out of high-traffic areas. Your cat will appreciate the privacy of a compact closet and you'll appreciate that doing so will minimize odors. Just make sure that you can keep the closet door open at all times.
2. Place a rubber mat on the floor
Place a rubber mat underneath the litter box to protect your flooring and catch litter box spills. Your best bet is a grooved and flexible mat so it can catch litter and you can easily pour it back into the box. (Petco, $12 and up)
3. Keep cat litter in a cute storage bin
Sure, you can just store your litter in the box it comes in, but why? Pick up a cute bucket to match your decor and pour your newly purchased litter in here for a more stylish way to solve your litter eyesores. (Ikea, $15)
4. Keep plastic bags handy with a wall mount
You'll need plastic grocery bags to haul away clumps of litter and cat poop when you clean your litter box. Keep them handy with a wall mount bag dispenser rather than wildly searching for a fresh bag every day. (Amazon, $10)
5. Affix a paper towel dispenser to the wall
In addition to the grocery bags, you know that you'll need paper towels to clean up your cat's unfortunate misses. Don't just place a roll of paper towels on the floor next to your litter box, since doing so is clearly in the splash zone. Screw a dispenser into the wall for easy access instead. (Walmart, $15)
6. Invest in a scoop caddy
Please don't confess that you just place your soiled scoop to the side of the litter box. That's gross. Hang a scoop caddy on the side of your litter box to contain its ickiness and organize your space. (Amazon, $9)
7. Hide a mason jar of baking soda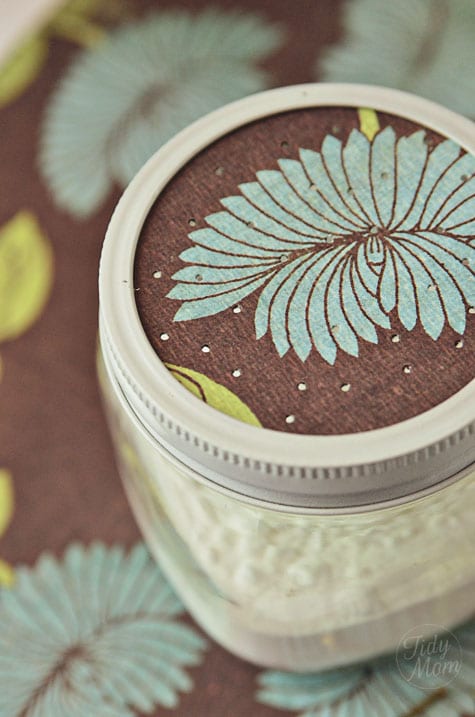 Image: Cheryl Sousan/TidyMom
Baking soda is a natural and scent-free odor eliminator that belongs in every cat owner's home. Keep your home smelling fresh by placing baking soda in your litter box area. Change the baking soda every 30 days for the best results. You can conceal the box of soda or display it in a mason jar decorated to complement your litter storage tote.
8. Conceal everything with a tension rod
Never underestimate the beauty of a tension rod. Once you've feng shui-ed your litter box area, conceal the space with a tension rod and a curtain. Your cat can easily access the litter box, but you won't have to look at it every time you walk by the closet.
This post was brought to you by ARM & HAMMER™ Clump & Seal™ LightWeight Cat Litter.
More about cats
Cat falls 3 stories and runs off like it's no big deal (VIDEO)
15 Sleepy kittens that need a nap as bad as you do
Feline hyperesthesia: What you should know about this cat disorder