Are you lusting for new flooring in your home? We can hardly blame you. Flooring has the ability to make or break a room, so it's a hugely important component of your design. If you own a pet, however, you need to carefully consider the type you choose. Some floors are durable and resilient when it comes to pets — and some, unfortunately, are not. Here are the best flooring options for pets.
1. Vinyl
Gone are the days of trashy vinyl flooring. New vinyl options can provide a home with the look of hardwood or expensive tile at just a fraction of the cost. Since vinyl is plastic, it won't absorb stains or odors — but it does absorb animal sounds.
2. Bamboo
If you're as passionate about eco-friendly flooring as you are about a cat-friendly home, bamboo is right for you. It is completely renewable and naturally stain-resistant. Not only that, bamboo's smooth finish means that cleaning up litter spills is one quick snap — or sweep — away.
3. Porcelain or ceramic tile
Tile flooring is hard and cold for pets to lie on, but it's still a good option for a pet-friendly home. Why, you ask? It resists scratching and the tiles will not absorb stains like natural stone tiles sometimes can. Just make it comfy by providing your animal with an area rug or pet bed.
4. Cork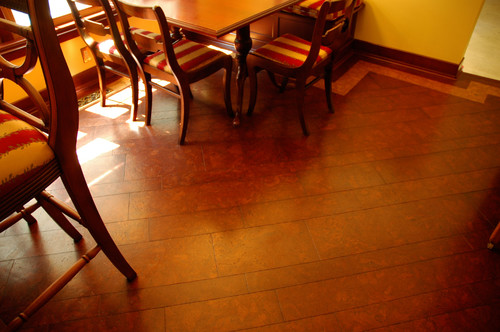 As long as you clean up accidents promptly, cork is an excellent option for a home with pets. The product is naturally antimicrobial, so it mitigates pet odors. Moreover, it absorbs sounds very well, so you won't have to listen to the click-clack of little claws all day.
5. Concrete
Concrete flooring is in right now, and for good reason. If you protect your concrete floors with sealer or floor wax, you won't find better flooring for pets. Concrete resists stains, odors, dander and mites, and it is super easy to clean up after a dog tracks mud through the house.
6. Laminate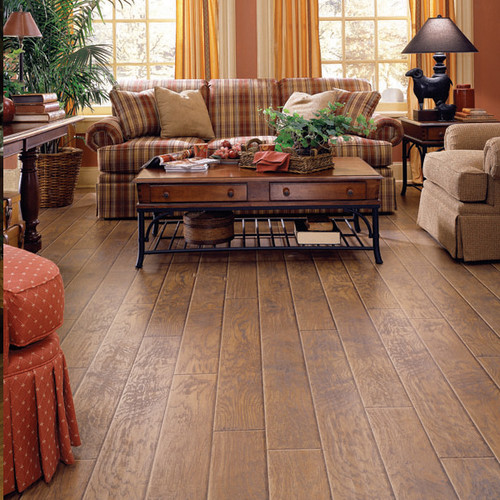 If you want the look of hardwood, laminate flooring is a good option for your home. It is naturally scratch-resistant and durable, and stops moisture better than hardwood. You will want to pick an embossed option to help your animals gain traction, since smooth options are notoriously slippery.
Flooring options to avoid
You're likely aware that carpeted floors are a major pain for pet owners. Even though carpets are comfortable, they soak up urine, dander, mud and odor, so they are not a great choice for a home with pets.
Surprisingly, you should also avoid stone tile and hardwood flooring. Stones like slate or travertine can absorb animal urine, which leads to tile discoloration and stubborn odors. Hardwood flooring can also absorb stains. And, even worse, it can start to warp if it is exposed to animal urine or spills from the water bowl.
This post was brought to you by Feline Pine™ Cat Litter.
More about pets
7 Struggles of dating when you have a pet
Dogs that love to swim are at risk for a painful ailment
Pigs as pets are a great idea — if you follow these 7 steps