There's a hair trend that swept Fashion Weeks all over the world, and for the life of me, I can't figure out why. It's called "rich-girl hair," and it's essentially super silky, long, straight hair with a slight bend in the middle. In my opinion, apart from the silky smoothness, this sounds like "I woke up like this" hair, but hey, that's pretty trendy now too, isn't it?
This "new" style "first" made an appearance at New York Fashion Week, and has since popped up all over the European runways. According to The Cut, Guido Palau, Redken's creative consultant, called the gleaming look at Versace "very glamorous, but in a nonchalant" way. I'd like to call it the "I barely put any effort into this, but I still look fabulous" style.
Image: Wenn
Paul Hanlon, lead stylist for John Frieda at Prabal Gurung's New York Fashion Week show, told The Cut that the look was meant to complement his "luxurious sportswear" line. Gurung wanted the girls looking, "as beautiful as possible, in the most natural way."
Stylists creating the look at these various Fashion Weeks want to make it clear that the look is very different from beach hair. Where beach hair is more choppy, texturized and wavy, "rich-girl hair" is smooth and straight, with just a slight curve halfway down. But make sure you keep these two separate in your mind, otherwise you might get slapped with a curling iron.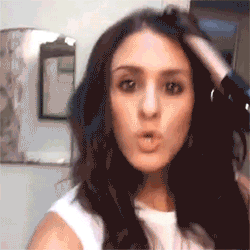 Image: Giphy
How to get the look
The lovely and talented Vernelle Murphy, owner and head stylist at Salon V, one the highest-rated salons in New York City, has some tips on how to easily achieve "rich-girl hair" sans stylist. She has also worked New York Fashion Week herself, and is thus at the forefront of hair trends.
First, she stipulates that it's an especially great 'do for girls who have straight hair normally, and just want a way to get a little movement without a lot of time and effort.
"In today's modern world, busy women everywhere are looking for effortless beauty. I think this look is chic and natural without looking 'done.'"
DIY "rich-girl hair" without having to fuss with a curling iron.
Apply a smoothing cream from roots to ends on damp hair.
Part your hair neatly down the center or deep side part. Let your hair dry naturally.

When your hair is 98 percent dry, twist your hair into two loose buns on the side of your head and let air dry the rest of the way.

Take hair down and enjoy loose waves without too much volume.
Bonus: Tucking your hair behind your ears for 10 minutes will give you a soft bend around the face.
Now the next time you want that effortlessly cool, rich-girl look, give this a try and see how many yachts you'll attract by the end of the day.
More on hair trends
'90s Hair trends are set to be a hit this summer
3 Professional hairstyle tutorials every career woman should know
The boho hair trick that gives new meaning to hair weaves