So you want to get pretty for a hot date, a high school reunion or a special birthday night out, but is it worth the money? Should you really shell out hundreds of dollars for a beauty treatment when you can do the same thing at home for free?
In my years spent working as an esthetician at a Denver salon, I saw some things. And by things, I mean pimples, vaginas and dozens of pasty bodies in need of a spray tan. I had a blast.
As the giver and receiver of a smorgasbord of beauty treatments, I figured out which salon and spa splurges are worth the cash:
1. Wax/laser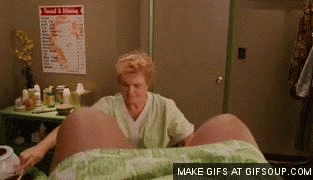 Image: giphy.com
Spa or at-home? Spa all the way. Even as a professional waxer and laser hair removal technician, I had a terrible time waxing myself at home. To paint a clearer picture: Home waxes most often end in tragedy — spilled wax, burnt skin, uneven bikini line, swollen and red hair follicles from an improper rip, and the list goes on. In most cases, waxing is a treatment that you do not want to try at home.
But what about laser? A full round of bikini or Brazilian laser treatment could run you hundreds of dollars compared to the $99 home laser product you saw on TV. Here are a few things to understand about home versus professional laser: A medical-strength laser can be highly dangerous, which is why technicians receive months of training. There is no way that laser power can be replicated at home to zap your bikini line. It's just not possible. Laser at home could take years to achieve the professional results you may see in months — it's well worth the investment.
2. Microdermabrasion/chemical peel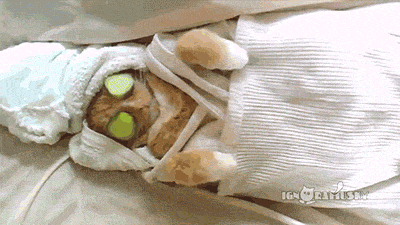 Image: giphy.com
Spa or at-home? Spa wins again. Microdermabrasions and chemical peels were some of my favorite services to perform as an esthetician — they are relaxing and revitalizing, and clients often notice an immediate difference. No matter what the internet or Amazon tells you, these are not beauty treatments you should try at home. Don't take a risk when treating your delicate facial skin.
On Real Self, you can see dozens of before and after shots of chemical peel clients who trusted the pros. Their results will inspire you.
3. Spray tan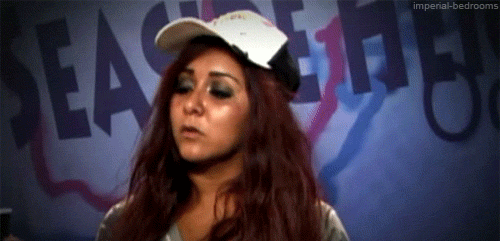 Image: giphy.com
Spa or at-home? Spa. We have all seen a spray tan gone wrong, so this answer is fairly cut and dry. A bottle of self-tanner could run you $5 and leave you a streaky mess. A spray tan may cost between $25-$50 (with package deals available) to offer a final product that looks like a natural, sun-kissed glow — when you work with an experienced tech. Definitely worth the cash.
4. Eyelashes
Spa or at-home? Try these at home. I spent years applying individual eyelash extensions to prestigious clients and even taught an extension training class. While the procedure is worth the hundreds of dollars you can blow on it each month for application and maintenance, inexpensive false eyelashes that are well-applied can vamp up your look for a special night out.
5. Facial
Spa or at-home? Home. I love me a spa facial, but let's be real — this isn't the type of treatment you can afford every month. If you're short on cash, create your own mini spa at home with a homemade winter facial, DIY facial luminizer and a DIY kiwi face mask.
6. Mani/pedi
Spa or at-home? Home. If you're in the mood to "treat yo self," I'm all about the professional mani/pedi combo. But back in the real world where it isn't payday yet, you can achieve similar results at home and save yourself $100. Insider celebrity nail tips can help you recreate the salon experience at home and a pedicure nail art tutorial awaits if you're feeling ambitious.
More on beauty
7 Ways you're using dry shampoo all wrong
7 Ways you should be using cotton balls
Kim Kardashian's new hair color will make you do a double take (PHOTO)