While you were working today, these well-heeled cats were living a life of luxury most of us can only fantasize about.
While it's true that most of the cats on this list inherited their wealth from a handful of cuckoo benefactors, one cat on this list is a self-made millionaire. Yes, as if being a cat lounging around, napping and knocking stuff off counters wasn't a great enough gig, these kitties have upped the ante big time.
Tinker ($160,000)
Image: Giphy
Tinker is a tomcat that was a stray until he was found and loved by an old lady, Margaret Layne, who left Tinker with a home in North London and a trust fund when she died. Layne designated her neighbors Ann and Eugene Wheatley as Tinker's caretakers and trustees. They drop off regular deliveries of fish, meat and milk to keep the kitty satisfied.
But there's a catch. Tinker loses the $800,000 house should he wander off. Sounds like this stray better stay put for good.
Tommaso ($13 million)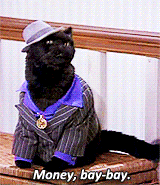 Image: Giphy
Tommaso looks like an everyday black, stray cat, but don't let his looks fool you — this is one rich cat. Tommaso was taken in by Maria Assunta in Milan, Italy, and upon her death in late 2011, she left her $13 million estate to the cat. Unfortunately, Italian law doesn't allow the cat to hold wealth and property, so the estate — and the cat — were handed over to a nurse who had taken care of Assunta.
Blackie ($25 million)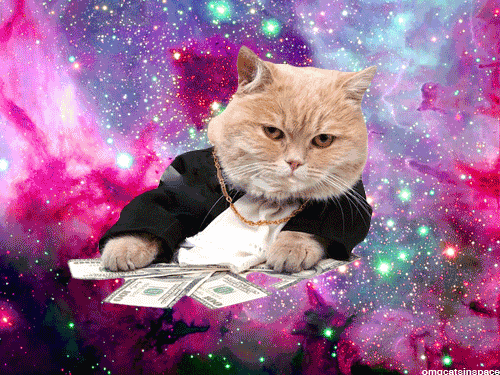 Image: Giphy
Blackie was lucky enough to befriend Ben Rea, who left the cat a $25 million fortune when he died. Featured in the Guiness Book of World Records as the world's richest cat, no one seems to know where Blackie is today. Probably in a bungalow on a private island with the world's largest pile of cat nip. I hope you're having a blast wherever you are, Blackie.
Tardar Sauce, a.k.a. Grumpy Cat ($100 million)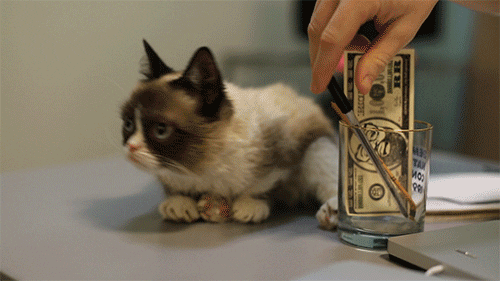 Image: Giphy
After a picture of Tardar Sauce was posted on Reddit, the feline in a perpetual foul mood, now billed as "Grumpy Cat," became an overnight sensation. The cat, from humble beginnings in Morrison, Arizona, has gone on to become a big star — and big earner.
Grumpy Cat's owner, Tabatha Bundesen, was once working as a waitress and is now in control of what is rumored to be Grumpy Cat's $100 million fortune. While Tabatha says that number is way off the mark, Grumpy Cat is reported to have earned more in the past couple of years than Hollywood heavyweights Nicole Kidman and Cameron Diaz when you add up the book deals, TV appearances and the deal to be Friskies spokescat.
More in cat craziness
4 Women who designed their houses for their cats
25 Random cat behaviors finally explained
Video proof that cats are basically invincible