Your kitchen is probably one of the most used rooms in your home so don't let it grow outdated on the style front. If you need some inspiration, take a look at these amazing kitchens and incorporate some of their fabulous details into your home.
Striking red
This super contemporary kitchen, with its metallic red gloss lacquered doors and steel worktops, isn't for the faint-hearted.
Photo credit: Scavolini Store Manila/Instagram
Elegant storage
The island is the focal point of this kitchen, with all crockery, food and other necessities out of sight inside the sleek lacquered cupboard units. Perfect for those who hate clutter.
Photo credit: Scavolini Store Manila/Instagram
Warm tones and copper accessories
Metallics is a big trend for kitchens in 2015 but if gold leaf marble (yes, really) is a bit too ostentatious for your liking, go for copper. It's modern without being over the top and goes brilliantly well with rich, dark woods.
Perfect peninsula
A well-designed peninsula pulls together the cooking, washing and eating areas of your kitchen and you don't have to have a huge space for it to work.
Photo credit: Scavolini Store Manila/Instagram
Blue and white details
Blue and white is a classic kitchen colour palette and we love the fact that it can be both modern and traditional. Vibrant blue, turquoise and bright aqua adds a sense of calm no matter how hectic meal times get, which is probably why it is so popular for kitchens.
Photo credit: Nickey Kehoe/Instagram
Marble and monochrome
If you already have a white kitchen you're halfway there with the monochrome trend. The grey cabinet doors and black stools create a contemporary, elegant colour palette in this kitchen.
Photo credit: homepolish/Instagram
More: Country casual decor for the modern girl
Retro colours
The easiest way to give your kitchen personality is through colour. Retro colours are huge this season: teal blue, mustard yellow, olive green and burnt orange.
Industrial design
Exposed beams, stainless steel and only the occasional pop of colour give a kitchen an industrial feel.
Photo credit: House & Garden UK/Instagram
Pastel shades
Soft green, peach and lemon are great shades for a softer kitchen colour palette — without being too feminine.
Walnut and grey
It's country cabin gone futuristic. Warm, welcoming brown and cool, calming grey is a surprisingly effective kitchen colour combination.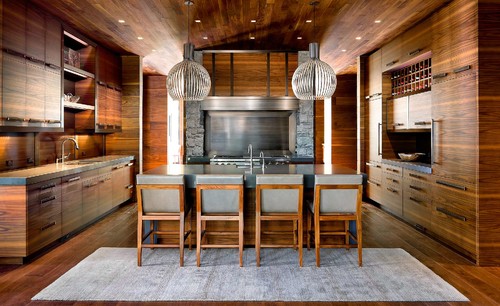 More home design trends
What are the trendy colours for spring/summer home decor?
Modern ways to incorporate floral prints into your home
Spring home decor that doesn't look like an Easter basket
This post was brought to you by Sainsbury's.