Choosing to add a furry friend to your growing household is a long-term commitment, and picking a breed that fits your lifestyle presents the key to a happy home. With over 160 American Kennel Club-recognized breeds, that decision can seem overwhelming. We're here to help you meet the breed that's right for you. If you're looking for an intelligent companion to add to your pack, then find out everything you need to know about the Labrador retriever.
Breed basics:
– Intelligent
– Friendly disposition
– Great family pet
– Active lifestyle
– Long life span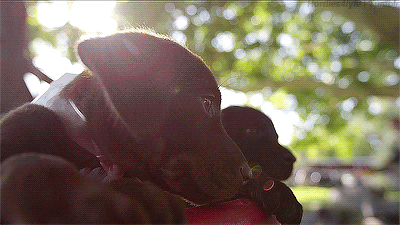 Image: Giphy
Overview
A breed sprung from Newfoundland and bred to retrieve fishing nets and water foul from the sea, the Labrador retriever is the ultimate water dog. Complete with webbed paws and a strong, rutter-like tail, this fun-loving pup was made for all things offshore. Active and athletic, with a stamina that holds up for endless hours, the Lab provides families and individuals with a playful and active companion that is loyal to the core.
Is this breed right for you?
Among the top of the nation's most popular breeds, the Lab makes an excellent family pet for all households. The main requirement? This breed must have room to run and be a part of an active family that loves to play outdoors. Labs make great pets for households with children, and they enjoy family activities. This intelligent breed can be easily trained to fit your household needs, and its minimal grooming requirements make this pup a well-rounded breed for anyone looking to have fun in the sun.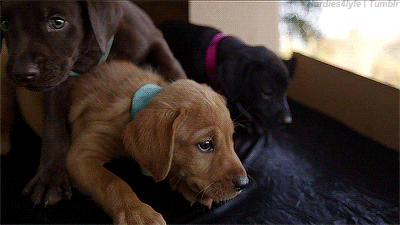 Image: Giphy
A dream day in the life
Swimming is in this breed's blood. A day at the lake, playing fetch and dock jumping, would be heaven for this water dog. Jogging by your side or romping with the kids will keep a Lab's tail wagging all day long. Labs are known for their stamina and have excellent sprinting abilities, making this pooch a happy companion for running enthusiasts.
Image: Giphy
Other breeds you might like
Meet the breed: Golden retriever
Meet the breed: Border collie
Meet the breed: German shorthaired pointer