Dry shampoo can be a miracle product, but it can also be a major let down — if you've ever tried it and felt disappointed, you know what I'm talking about. I love the idea of dry shampoo, but I've always found it to be a hit or miss experience. So, I went to the source — three top hair experts who make a living working with hair and hair care products every day — to find out what I've been doing wrong. Ladies, get ready to own that dry shampoo.
1. You're applying from the top to bottom
Au contraire! What you should be doing is starting from the bottom and sides of your hair and working up. This is a trick that Aussie celebrity hairstylist Sarah Potempa revealed to me at an event recently — I was thunderstruck. I always do the opposite… doh! While you're at it: "Always spray the underneath section of your hair to hide any residue, and to make sure you're lifting from the root," Sarah says.
2. You're spraying it too close to your head
"When using dry shampoo, mist the root area about eight inches away from the scalp," says Jenny Balding, Cutler/Redken Stylist. "This way it won't become concentrated in one area."
3. You're not using enough
"People get scared to use too much," says Jenny. "But too little is ineffective also!" Don't be afraid of the spray! Spray away!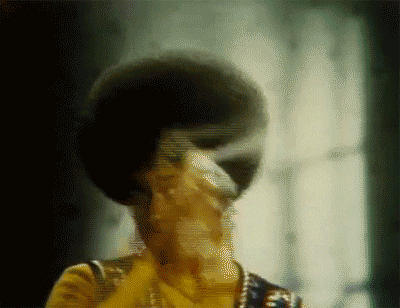 Image: Giphy
4. You're spraying and then betraying it
Once you spray it in, you have more to do, people. "The best way to apply dry shampoo is to spray the product onto the scalp, then shake hair aggressively with your hands to really work the product in," says Stacey Guerra, NYC's Butterfly Studio Salon senior stylist. "Brush the roots with a natural bristle brush to break up the oil in the root of the hair. Then move the brush side to side to create a natural tease and volume at the crown of the head."
5. You're giving up after you try one dry shampoo and don't like it
There are so many dry shampoos on the market now, says Stacey. "It's a trial and error process to find the one that is right for your hair and texture." For example, Oribe Dry Texturizing Spray (Oribe, $42) is Stacey's go-to for hair that needs a boost of volume and texture. She also recommends the Kerastase Powder Bluff (Kerastase Usa, $37) for light brown to blond hair, and people in need of tons of texture and volume plus anti-humidity and heat protection.
A great, affordable option for all hair types is Redken Pillow Proof Blow Dry Two Day Extender & Oil Absorbing Dry Shampoo. (Ulta, $10)
6. You're only using dry shampoo when your hair is dirty
"Dry shampoo makes for a great styling product as well as giving your hair extra lift," says Sarah. She recommends the brand new Aussie Total Miracle 7N1 Dry Shampoo as a great texturizing product for undone 'dos, especially trendy, loose braids. (Drugstore.com, $6)
7. You're only using dry shampoo on your hair
Yes, you read that correctly. Two of Sarah's dry shampoo tricks: "Spray bobby pins so they won't slip," she says. "This will keep them secure in even the finest, straightest hair." Also: "Spray dry shampoo directly on your hairbrush to evenly distribute product."
More beauty tips
7 Ways you should be using cotton balls
New tool give the perfect 5-minute gel manicure at home
Now you can tattoo your Instagram snaps on your body