You've got an interview for your dream job and you want to look the part and make the killer first impression you need to land it.
What you put on for that crucial meeting could mean the difference between being hired and being passed over for the position, according to fashion expert Elycia Rubin.
"The way you dress is going to impact the perception the interviewer has of you," says Rubin, a former People magazine StyleWatch contributor and lifestyle director at E! Networks. "Obviously your resume is the first point of contact and can speak to your qualifications, but if you happen to walk in not looking the part, that can color the interview poorly."
She suggests that women look no further than Kate Middleton for inspiration on what to wear for that first, critical meeting.
"Anyone's muse for a job interview dress should be the Duchess of Cambridge," says Rubin, a mom herself. "They're all polished, they're all lady-like, they're all professional." Her outfits, that is.
More: Versatile fashion essentials for the working mom
So without further ado, here are 5 dresses that will get you the job you so richly deserve (thank you, Kate!). Bonus: You might even feel like a princess.
1. Shift dress
The catch-all shift dress could be "the one" when it comes to choosing the interview outfit that will get you the job. "Shift dresses are probably your best bet," says Rubin, because they come in so many different styles, can be worn to work and out at night and strike the perfect balance between polished and fashionable (Nordstrom, $118).
2. A-line dress
An A-line dress like this one also comes in a whole array of styles, patterns and colors and is the perfect classic look for getting hired. Kate is the queen — well, duchess — of the A-line. And Zara is reportedly one of her go-to places to buy her clothes, along with Topshop. "A-lines are great," Rubin says. "You want styles that hit right below or right at the knee, and you don't want to show too much leg or too much cleavage." Aside from Kate's favorite shops, Rubin suggests Ann Taylor Loft, H&M and department stores as good places to find the interview dress you're after (Zara, $80).
3. Wrap dress
A wrap dress like this is an ideal outfit to wear to that important job interview. Though the style is now an "oldie," it's still a goodie because it's flattering yet sleek at the same time. Just watch your shades. "You don't want to have colors that are too loud," Rubin warns. Instead, go for muted or neutral tones like pastels, grays, beiges, blues and even black or white (Bloomingdale's, $155).
4. Sheath dress
Another dress perfect for any interview, a simple sheath dress like the one pictured here is among the most versatile out there — and the most sophisticated. There are so many different varieties of the sheath that it can work for almost anyone (Zara, $80).
More: 6 Ways to give your little black dress a facelift
5. Coat dress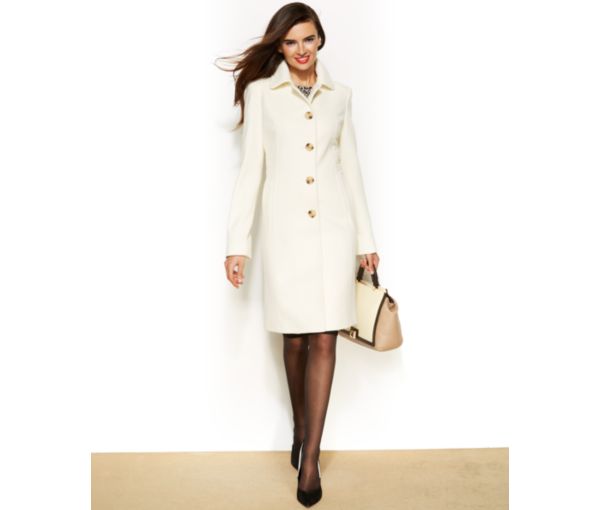 If any look screams Kate Middleton, Duchess of Cambridge, this is it — and why not follow suit for that interview you've been praying you'd get? "All the styles [Kate] wears are feminine and pretty but still covered up in a way that's professional."
Bottom line: Err on the side of pretty, classy and conservative. That goes not only for what you wear, but your hair, makeup and even perfume, according to Rubin.
"If you're wearing some kind of outfit that's a little over-the-top, the interviewer will be distracted," she says. "If the outfit is too sexy, too revealing, too frumpy … that does send a message. You want to walk in there owning it."