An unused closet? Unheard of! Whether you're looking to add more value to the space in your home or just a unique way to utilize some unused space, these closet ideas are sure to ride your coattails.
1. Closet office
Image: I Heart Organizing
Have a spare bedroom you want to use for guests but as an office as well? No worries. Turn the closet into a simple, low-key but efficient office area. Cover with a curtain to keep it inconspicuous when guests arrive.
2. Spare bedroom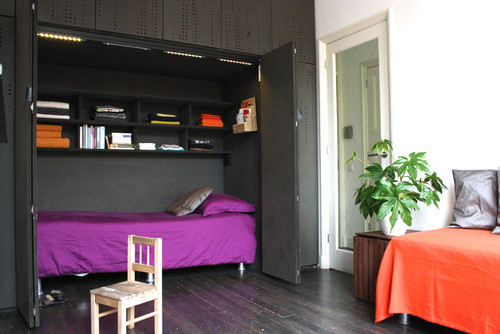 The opposite idea of using your closet for a desk in the spare room is to use the closet for the spare bed instead. Make it cozy for your guests by adding a space for bedside lighting and reading.
3. Book nook
Image: Thrifty Decor Chick
There's a reason so many people love the book nook: They're simple and adorable! A hall closet makes an amazing space to cuddle up to read a novel or take an afternoon snooze.
4. Homework station
Image: Jen Loves Kev
Since a playroom doesn't really need a closet anyway, transform it into a homework station! A great place for a mini library and the perfect spot for little-people table and chairs.
5. Mudroom
Image: Little Inspirations
For those of us who live in a home that doesn't really require a mudroom (think the desert Southwest), it doesn't mean we can't have one. Take out the coat closet, and turn it into a nice area to hang purses, backpacks, coats and whatever else you may need.
6. Slide-out pantry
Image: Slide Out Shelf Dallas
If you don't have enough room in your pantry, then make another one! A linen closet or small coat closet will make an outstanding place for food storage thanks to these slide-out shelves.
7. Private sleeping space
Image: A Lovely Lark
Create a private area in a child's bedroom for sleeping while still allowing room for play. Use underneath storage or an additional dresser for clothes to make the space open yet cozy.
More: 8 Clever ways to fake extra square footage in a small home
8. TV room
Image: Sara Camre Architecture & Design
Feel like you're wealthy with your own private theater… in your closet! Although this TV room closet is shown in a child's bedroom, it would be superb in an adult space as well.
9. Craft corner
Image: Beneath My Heart
Why close off your craft items when you can put them on display? Although this craft corner is still technically a closet, it looks much more welcoming without the doors and a bit of crafty organization.
10. Mommy's corner
Image: Tater Tots & Jello
It doesn't have to be anything special but your own private getaway to eat Snickers away from the kids. Stare at yourself, or dream up Hawaiian vacations by taking a small, silly closet and turning it into a corner just for you.
11. Makeup vanity
Image: Liz Marie Blog
Similar to the idea above, an unused linen closet can make an excellent makeup vanity. Add a floating shelf and a fantastic mirror for a glam station straight from heaven.
12. Perfume port
Image: Moth Design
Who says closets are just for clothes? Tear down the door, and put your goods on display! If you've got a designer perfume collection and bags to go with it, this is a perfume port you can be passionate about.
13. Playroom
For those mamas dying for a playroom but without the room to spare, perhaps a closet can do just the same. A mat or a comforter can go a long way, with a few toys on the floor.
14. Bunk beds
Image: Put Up Your Dukes
Make room for multiples (children or twins) by bunking up two of the kiddos' beds in the closet. A cozy little space, they'll think it's a sleepover every night.
15. Built-in nook or office
Image: House of Rose Blog
If you can't decide between turning your closet into a nook or a home office, do both! A snug place for work, Pinterest, enjoying coffee or a little bit of all three.
16. Baby changing space
Image: Project Nursery
Make more room in the nursery by putting the changing area in the closet. It's not like the baby has that many clothes anyway, right?
17. Baby's nursery
Image: Yellow Whistle
And if not the changing station, why not the whole nursery? Keep the baby in your room, and create his or her own space by putting them in the otherwise unused closet.
18. Laundry room
Image: Absolute Remodeling
Move your laundry room from the basement into your linen closet. Contact a handyman to see if the move is possible.
More: 13 Life hacks to calm the craze in the laundry room
19. Dress-up area
Image: The Lark
Make your little lady feel like a princess by turning her closet into a dressing room. Drape some curtains, and add a bit of wallpaper for whimsical fun in the land of make-believe.
20. Sleepover room
Images: Club Chica Circle
Sleepovers are about to get 100 times better with this closet-turned-sleepover room. Add a lamp, a small-screen TV, rug and bookshelf to make the space more personalized and entertaining.
More closet organization tips
Hollywood designer gives away closet secrets of the stars
3 Tough closet organization questions answered by a California Closets design guru
DIY exposed closet