Decorating a rental space can be tough. Your decorating options are limited by your decorating agreement. It's time to think outside the box. Here are 10 ways to add style to your rented space.
1. Floating shelves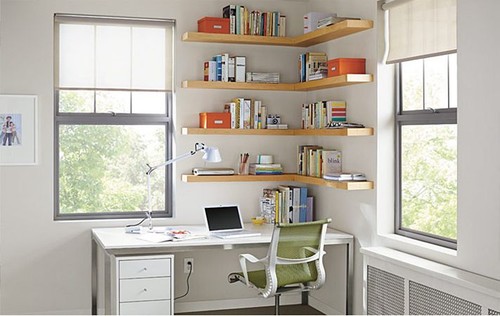 Display collectibles on floating shelves. They are inexpensive and easy to install. Floating shelves are available in several colors and match almost any style.
2. Use mirrors to add depth
Mirrors can elongate and brighten up spaces. They reflect light and make small spaces appear larger.
3. Paint your furniture
If you can't paint your walls, paint your furniture! You might have to live with white walls, but you can add some color with your furniture.
4. Dress up the windows
Ditch the stark white and bland mini-blinds. Adding custom window treatments will turn a boring space into a stylish place you'll be glad to call home.
5. Baskets
Organize your everyday items in stylish baskets. They are portable and flexible in any type of decor.
6. Area rugs
Cover up plain ol' carpet or boring floors with a pretty area rug. Area rugs can warm your space and add style without breaking the bank.
7. Add large art
Try this ingenious way to add pizzazz to a plain wall: washi tape! You can add a modern geometric design over a large space for not a lot of money.
8. Put a skirt on
Use curtains to cover up unsightliness from under the sink or over-exposed shelves.
9. Throw pillows
Pillows are a quick and easy way to add color, texture and style to your space. With so many options available, the sky's the limit.
10. Lamps
The right lamp will enhance the mood lighting in a room and add style. Brighten up your space with a decorative lamp.
More in decor
8 Clever ways to fake extra square footage in a small home
13 Ingenious ways to turn old clothes into home decor
What should your signature color be? (QUIZ)