Find your inspiration for your next bedroom makeover with these spaces that take aquatic love to an entire new level. Enjoy these ocean-themed bedrooms that you can check into (at hotels) or check out.
Atlantis the Palm
Although this room may appear as if it is 10,000 leagues under the sea, the Poseidon and Neptune suites are actually submerged in the hotel's Ambassador Lagoon. Giving you a full-fledged view of the aquatic life in its natural habitat in the bedroom and bathroom, this room is a true example of luxury. What else would you expect when staying in a luxury hotel such as the Atlantis?
A peek under the sea
Not a huge aquarium, this sneak peek makes it appear as if this room is deep in the ocean blue. Designed by Marie Burgos, the room is part of her City Zen project, meant to provide a tropical oasis in the midst of an urban environment.
Ocean suites
Stay in Singapore and sleep with the sharks. OK, not literally, but an oversize window does give you a real-life look into the Resorts World Sentosa Singapore's private aquarium. As noted on their site, some of the guests' favorite experiences include a front-row seat to feeding time.
Under water in Dubai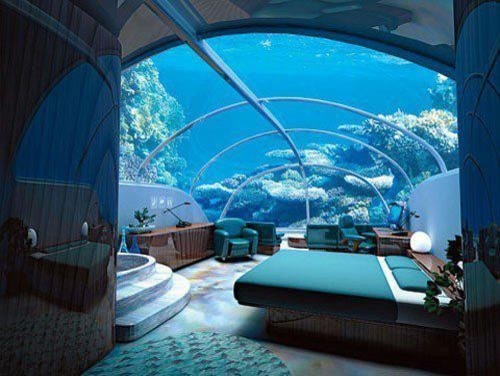 OK, so this hotel is still in the concept process, but if it is actually built, it will no doubt be ah-mazing! In the Hydropolis Underwater Hotel Dubai, guests will have the ability to sleep 66 feet below the ground in the ocean. If that doesn't terrify you, find out more info on the hotel's website.
Aquarium + paint = perfection
Add an aquarium into your child's bedroom, paint the walls and add a bit of ocean decor to literally make them feel as if they are swimming beneath the ocean's surface. And if they're not interested, you can always make over your own bedroom.
A pirate's life for me
Who needs an aquarium in their bedroom when you can add a real-life pirate ship? OK, so the pirate ship isn't real, but it sure does look like it, and that's all that really matters. With the walls painted blue, the ship literally looks as if it's sailing the seven seas. This is a great idea for saving space and making your kiddo's dreams come true.
Little mermaid
Mermaids are surely awesome, but it's this ceiling that takes the cake in this aquatic-themed bedroom. Having the appearance of swimming beneath the water's waves, the decals and blue-hued walls make the occupant forget that it's carpet they're walking on and not a sandy ocean floor.
Jellyfishing
It's hard to tell if this nook is in a bedroom or the corner of the Atlantic. Safely assuming it's the former, this may become any home owner's favorite spot to cuddle up with a good read. We just love the hanging jellyfish lamp that brings this aquatic-themed space around full circle.
Sharknado
If you're a fan of Shark Week, this is the room for you. Filled with painted sea life, including the famous predator, this ocean-blue bedroom has awesome aquatic-like furniture as well. Beware — although you may be safe from a shark attack in this space, you may just have a few nightmares with the shark's sharp teeth hanging over your head.
Free Willy
A sweet girl's bedroom for a little lady with a love for whales, this space has the perfect mix of pink and ocean life. The wall mural and awesome lamp are nothing but amazing for a girl who has a true-blue love for sea animals.
More in bedroom decor
The bedroom renovation guide
Give your bedroom a sexy makeover
Bedroom decor for your personality