Most of us are obsessed with the likes of Ikea and Target home decor, but those who live lives of luxury find comfort in the finer things. Insanely expensive, but no doubt exquisite, these home decor items are sure to impress you. However, they may just knock you off your feet once you get a look at their price tags.
Table tray
You can visit the ocean or you can purchase a table tray with an awesome oceanic scene on it. They both cost around the same amount, but will the tray provide you with memories to last a lifetime? We think not (Barneys, $1,625).
30-Light chandelier
Light up your dining room or your entire house with a 30-light chandelier. If you don't break the bank buying it, you will lighting it. At least the chandelier will add some significant value to your home (Safavieh Home Furnishings, $9,995).
Luxury mirror
Do you look better when looking into a mirror that costs over $14,000? We certainly hope so, with that crazy price tag. Find out for yourself with this genuine Shagreen mirror (InStyle Decor, $14,700).
Eames chair
If you're over Ikea goods, then this one-of-a-kind Eames chair is perfect for you. A first edition, this rocker is midcentury and costs about four times as much as the average American household makes in a year (Etsy, $250,000).
Cathedral bed
Sleep like the queen you are with this cathedral canopy bed. Elegant and magnificent, this handcrafted bed comes with a crystal chandelier. Call ahead for measurements to ensure that you can fit this massive bed inside your home (That's Haute, $19,950).
Grandfather clock
Your home just isn't complete without the addition of a grandfather clock. Costing about the same as the salary that your grandpa made when he was your age, this clock is simply the best, with diamond detailing (Bernadette Livingston, $24,995).
Empire dining table
Those who have a big family will relish this Empire-style dining table. With its price, you just may not be able to feed or house that large family if you purchase it (Bernadette Livingston, $59,500).
Tufted sofa
High end takes itself literally with this Haute House Bella Gigi sofa. Handcrafted and absolutely luxurious, this may be the only piece of furniture you can add to your home if you purchase this beauty (Horchow, $6,729).
Fendi blanket
If you can't afford a Fendi automobile, you might be able to afford a Fendi blanket. For only a few thousand buckaroos, this blanket is soft, luxurious and made of wool (Saks Fifth Avenue, $2,980).
Armani chair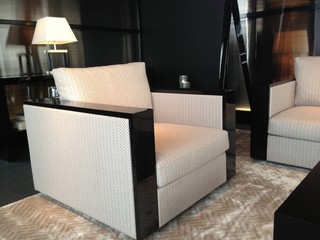 The definition of luxury comes from this Armani chair. And although all of their items are priced high, this is one of the few listed online by an Armani representative. We can only imagine the price of the larger items if the chair comes with a $12,150 price tag. Visit ArmaniCasa.com to find a location near you for more high-end items and crazy prices.
More luxury for your home
10 Most popular design trends for luxury homes
Get more for less: Knock off this luxury bathroom
Creating a casual luxury home