Perfect romantic getaways for two
Sep 23, 2008 at 10:10 p.m. ET
A romantic getaway is a chance to escape and spend time renewing your love for each other.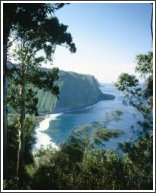 Often couples get so caught up in the daily routines of life that they may not realize that haven't even kissed for a few days. If you've felt the pressures of life have been getting to your relationship, try of the following ideas to help you get your romance back on track.
Immediate Getaways
Sometimes the need to escape to a getaway is an immediate one. This is especially true when you and your partner are feeling over pressured or stressed. When the mood strikes, try one of these ideas:
"I'd love going for a quiet drive for awhile. It doesn't matter where we drive to as long as there are no kids, no cell phone calls, and no rush to have to be back soon."
-Rebecca
"I'd enjoy a candlelight dinner exclusively for both of us because we wouldn't want to be disturbed."
-Vishal
I'd go to a secluded hill and watch the sunset because it gives you the time to be by yourselves and it's so beautiful."
-Corissa
"My perfect romantic getaway would be simple and fun! I would like to go with my boyfriend either to the movies, or he could come over and just cuddle with me and watch movies and talk!!"
-Brandi
"For me the perfect getaway would probably be going on your roof (as long as it's safe) with your guy and just spending some quality time together. If not your rooftop, you could also be on your balcony or somewhere that you feel safe and in the mood for loving."
-Paris
"My love and I will go to the highest part of the city, where all the city can be seen. We would go at night when just the moon and the stars are in the sky. We would watch the lights moving in the city and we would hear our favorite love song. We would spend our time hand in hand knowing that we will stay together as long as we shall live."
-Elleen
Day Trip Getaways
Getting away doesn't always have to mean an extended trip. You can enjoy all the peace and relaxation while enjoying a day or evening out somewhere special. For ideas, try one of these:
"I consider the perfect romantic getaway to be a nice trip for you and your partner to a nice sandy beach late at night. That way you and your partner can spend quality time together and take a nice walk on the beach and stargaze together."
-Stephanie
"Well, I would take my date to the Navy pier at night and look out at the water and just kiss. Then we would have a romantic candle light dinner under the stars just the two of us."
-Jennifer
"I wish to be alone with my husband in my house only because that is exactly where we can be together without any disturbances. We can be as close together as we like which is just the way I like it!"
-Laxmi
""I would want to go to a secluded beach so that it would be only my man and I, and we would have all the privacy that we needed and wanted."
-Andrea
"I think the most romantic getaway involves going to the park and doing things you would have done when you were kids. It should bring you closer to one another."
-Shannon
"My ideal getaway would involve soft music in the distance to set the mood; my baby and I in a small little boat in the middle of a lake under the moon and stars. We would be wrapped in a soft blanket together, to keep warm. And that's where all thoughts would be let go and all worries would be forgotten."
-Briana
"I think having a picnic, anywhere quiet would be the most romantic getaway. I would love that because it's a chance to spend quiet and personal time together. Usually no one is around and it gives you a chance to know just that one person."
-Amy
"I would go to the aquariums in the most beautiful places and then have dinner along the beach somewhere."
-Raquel
"A perfect getaway for me would be to visit a very nice restaurant with that special lady. Then, have a candlelight dinner with great wine and retire for a sensual rub down of intimate and passionate love making!!"
-Stan
"The perfect romantic getaway would be my front living room couch, my love and a romantic movie. It's always great to be able to be comfortable in your own home cuddled up to your loved one."
-Danny
"I would love to go somewhere that is a surprise. I would love to be taken into a room blindfolded and just see a whole bunch of candles and flowers and fruit everywhere. I would want my lover and I to just lay around all day and night together naked in each other's arms."
-Blue6erry
Romantic Getaways
When you're ready to escape your daily life to enjoy a romantic getaway for two, try one of these ideas:
"A perfect romantic getaway would be to any secluded bed and breakfast anywhere in the country. I would prefer it to be cold outside so my lover and I could cuddle wrapped in blankets. I would go there so we could learn more about each other away from reality."
-Chantelle
"My ideal getaway involves a private cottage, fireplace and a comfy soft sleigh bed on a lake with a boat that has trails to walk on. It should have a private dock for intimate fun with no computer or TV...well only one that can be used for watching videos!"
-Allison
"I would like to go to the beach and stay in a beach-front house. That way we can take moonlight or early morning strolls on the beach. Or, we can sit on the deck and watch sunrise or sunset or even feed the seagulls. I would like it to be a deserted beach so that we can be alone and have absolute peace and quiet, except for the noises we want to make. I feel this type of getaway would bring us together emotionally and physically."
-Danielle
"The perfect getaway would be a weekend snowboarding with my boyfriend."
-Candice
"I'd love a cabin in the woods with a hot tub, a body of water close by and in the mountains. There would be a soft rain falling at night and a fireplace where we were all alone--no phone, no computers, no pagers...just us."
-Pam
"I would go on a romantic cruise. I wouldn't have to worry about anything--just relax!"
-Tasha
"My ideal would be a cozy cabin in the mountains with plenty of wood and lots of snow on the ground, my husband, of course, with no kids and lots of books to read to each other...the kind of books couples read to each other. :-)"
-Mary
"For me the perfect romantic getaway would be a three or four day getaway on a yacht. We would share warm weather, clear waters and blue skies. What could be better? Maybe the sunset or the sunrises!"
-Robin
"I would go camping on a beach somewhere so that we could be totally by ourselves with no neighbors."
-Lan
"I would consider the perfect getaway to be to a sunny place with romantic settings and hotel rooms with big bathtubs for two. This would give us lots of time for the perfect love-filled getaway."
-Ann
"I would go to an island where there are waterfalls right by you and you could stay in a cabin and sleep with the door open like on Gilligan's Island. We could wake up and fall asleep to the sound of the crashing waves of the ocean and the falling waterfalls."
-Amber
Creating The Ideal Getaway
Remember your plans don't need to be elaborate to create an atmosphere of secluded love and romance. It just takes a little creativity and planning...
The most perfect romantic getaway in my mind would be anyplace quiet, secluded, relaxing and peaceful. I don't think its so much the place that's important, but the company that you are there with. A romantic getaway could be a simple as your bedroom transformed into whatever you feel is romantic. -Leigh Anne