Almost every little girl has dreamed about becoming a mermaid, frolicking in the sea, waiting for her prince to come. These nails are playfully nostalgic and so fun!
Mermaid scales nail art
Supplies:
Dotting tool
Sephora's Just a Fairy-Tail
Julep's Carrie
Sally Hansen's The Real Teal
Essie's Super Duper Top Coat
Instructions:
Prepare the polish for the dotting tool. Put a drop of each color on a scrap piece of paper and refresh as needed.
The whole manicure consists of dots, so get comfortable. (You can also try just doing this as an accent nail to save some time.) Start with a teal dot on the top corner of your nail. Follow with a pink dot next to it, overlapping it just a bit. Do a silver dot next to the pink one, overlapping as well. Repeat the steps working across to the other side of the nail.
When you begin the next row, you'll want to make sure you don't have two dots of the same color touching (ex: teal overlapping teal). So in this case, we started the row with pink and repeated the pattern. This row should overlap the first row a bit.
Repeat the dotting pattern until your whole nail is covered, making sure to overlap dots and rows for the "mermaid scale" look. Let it dry, and then finish with a top coat.
More summer nail art tutorials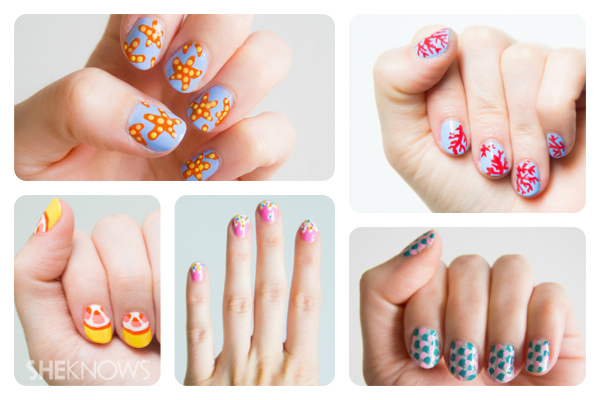 Check out our nail design photo gallery here >>
More beauty
Coral reef printed nails
DIY collar nails tutorial
Citrus nail design