Decorating trends change so quickly they can make your head spin. Avoid the confusion with our list of the current best-of-the-best home decor ideas.
1. Shiny metal
Image: nousDECOR
"Metal is everything," says Mark Cutler, chief designer for nousDECOR. Cutler, who has worked with Jennifer Lopez and Steve Carell, says that shiny brass is making a comeback in Hollywood.
Beverly Hills designer Ryan Saghian agrees. "Right now, it's all about accentuating with brass," says Saghian. Look for it in fixtures, home decor, lighting and even wallpaper!
2. Black rooms
Image: Houzz.com
"Black rooms are a huge trend," says Cutler. "Black is being used everywhere… even on house exteriors!"
3. Or blue…
Image: Zillow
If black is too extreme for you, then think blue. "Bring the alluring melancholy of deep indigo into your home with saturated hues and velvet upholstery," say the experts at Dot&Bo. "Capture the essence of a world at dusk with the help of dark woven lampshades, and bring a brooding energy to your interiors."
More: 13 Animal decor accents that aren't tacky
4. Wallpaper
Image: Houzz
Wallpaper is taking over. Homeowners are papering accent walls, ceilings, furniture and entire rooms with out-of-this-world prints and patterns.
More: 17 Fun wallpaper designs that prove this trend is back and better than ever
5. Gaudy glam
Image: RyanSaghhian
"Opulence is back," says Cutler. "Not just luxury, but over-the-top crazy, gaudy glam." Think Liberace.
6. Friendly front yards
Image: Houzz
"People are finally rediscovering that a front yard can actually be used and not just looked at," says artist and designer Pablo Solomon. "They are creating interesting, comfortable and surprisingly private areas in their front yards and returning to the mid-century neighborhood pastime of watching the world go by from the comfort of a front porch or lawn chair."
More: 10 Sofas you can actually put on your front porch
7. Big floral prints
Image: Houzz.com
Large-scale florals are hot right now, according to the experts at Laura Ashley. Replace geometric-patterned drapes and upholstery with big flower prints and mix with stripes and other patterns for a French-inspired look that's just now making its way to the States.
8. Decorated ceilings
Image: Darryl Nobles for Alena Capra Designs
"The coolest decorating trend is the inclusion of the ceiling in the concept," says interior designer Arthur Rooks. "Although the ceiling has been decorated in homes since the Renaissance, most of us have never considered the idea of viewing the ceiling as the sixth surface in a room." The design doesn't have to be tedious or expensive — simple paint or wallpaper will do!
"I wallpaper a lot of the ceilings in my projects to give a dramatic accent," says south Florida designer Alena Capra. "I typically use wallpaper with metallic hues for a nice reflection of light."
9. Upcycled furniture and decor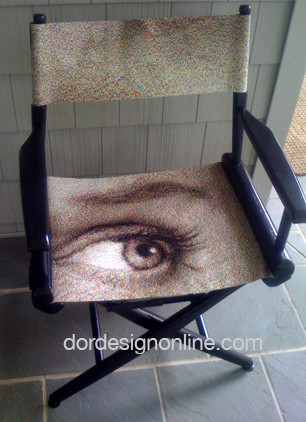 Image: Houzz.com
"Of course, sustainable is big," says Solomon. "A growing part of that trend is the reuse of materials and the refunctioning of what were once thought to be only industrial throwaways." Like dordesign's amazing floor coverings, ottomans and director chairs created from recycled billboards.