This creepy black arachnid has just spun a web and she's here to stay! Display this fun craft on your tabletop or in your windowsill. It's a great Halloween craft for kids!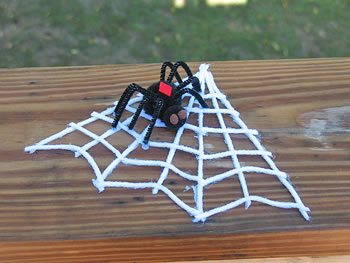 What you need:
White yarn
White craft glue
Small dish or plate
Scissors
1 sheet white paper
wax paper
1 medium black pom pom
1 small black pom pom
2 miniature brown pom poms
2 skinny black chenille stems
small scrap of red felt
What you do:
Print out the pattern and place a sheet of wax paper over the top of it. You can tape it together, use a paper clip or even staple it to keep it in place.
Put about a tablespoon of white craft glue in a small dish or on a plate.
Cut yarn into piece according to pattern. You will need 2 1/2-long pieces for the two straight edges, then simply use the pattern to measure out the other pieces.
Dip your pointing finger and thumb into glue and run yarn through those fingers, coating the yarn with glue. Place glue covered yarn pieces on top of wax paper, using the pattern underneath as a guide. Overlap the pieces of yarn as you go so that they will dry stuck to each other, holding the web together.
Glue the larger black pom pom to the top area of the web. Glue the smaller black pom pom directly below the larger one as the head of the spider. Glue the two miniature brown pom poms onto the "head" as the eyes.
Cut a small diamond from the red scrap felt and glue to the spider's back.
Cut the skinny black chenille stem into eight pieces that are 1 ¾-inch long. Bend each piece so that one side is 1 ¼-inch long and the other is ½-inch long.
Put a generous dot of glue on each end of the chenille. Place the short end into the top of the body and the longer end should stick to the web. As the glue dries, continue to check the legs and adjust them if they start to fall.
Allow the entire project to dry overnight.
Carefully remove the wax paper from the back of the spierweb.
More Halloween crafts
Bats and cats Halloween napkin rings
Tin can dracula
"Witch is in" salt dough table decoration