These fun monsters are the perfect craft for your kids this Halloween! Save your cereal boxes and make Frankenstein and the mummy to dress up your holiday decor!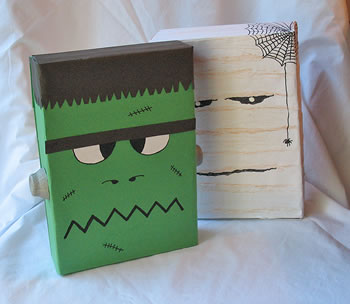 You will need:
2 cereal boxes
construction paper: green, white and black
2 cardboard egg cups
black marker
brown crayon
white and silver acrylic craft paint
paintbrush or pencil with eraser
scissors
white craft glue
hot glue gun
2 zipper sandwich bags filled with sand or pebbles (optional)
What you do:
Remove cereal bag from box. If you would like your monster to have some weight to it so it will stand with less chance of falling over, place a sealed zipper sandwich bag filled with sand or pebbles inside the cereal box.
Frankenstein cereal box monster
Paint two cardboard egg cups with silver paint and set aside to dry.
Cover one of the cereal boxes with green construction paper using white craft glue.
Use black construction paper to make the hair, cutting bangs with scissors. Cover the top of the cereal box and about 2-inch down the sides, front and back.
Cut a strip of black construction paper the width of the cereal box and about ¾-inch high. Place the "eyebrows" about 2-inch below the bangs, but do not glue them in place just yet.
Cut a circle about 2-inch in diameter from white construction paper. Fold the circle in half and make a crease, cut the circle in half along the crease. Place the half circles underneath the "eyebrow" strip, do not glue down. Use a pencil to draw on the black on the eyes and color in with a black marker. Glue the eyes and eyebrows in place.
Draw on nostrils and a zig-zag mouth with a black marker. Add stitches by drawing a long line and a series of short lines running through the long line.
Use the hot glue gun to attach the egg cup "bolts" to the sides of the box.
Mummy cereal box monster
Cover entire cereal box with white constructions paper. Take two more sheets of construction paper and tear into long strips. Glue the strips around the box, front and back.
Use a brown crayon to lightly color the edges of the torn paper to look like aged bandages.
Use a black marker to draw on eyes and a mouth. Use the handle end of the paintbrush to dot on the whites of the eyes.
Use black marker to draw on a spider web and a spider in the upper right corner of the box.
More Halloween crafts
Bats and cats Halloween napkin rings
Tin can dracula
"Witch is in" salt dough table decoration