You might think that you are a cool, calm and collected bride who just happens to be the exception to the rule, until you lose it. All it takes is one unprecedented wedding snafu or a tad too much stress, and you'll go from a sweet girl in a white dress to a full-blown Bridezilla. It happens much more often than you think.
My husband and I eloped at a resort in Antigua, and we didn't invite any friends or family to attend. That was my inside secret to keep my Bridezilla tendencies under wraps. No one was there to witness the times I acted like a maniac on my wedding day — and yes, it still happened.
I have also been in plenty of weddings where I have seen my closest girlfriends just lose it over the smallest things, and it didn't make me love them any less. Weddings are stressful. All eyes are on the bride. It's totally normal to freak the funk out at least once on what is anticipated to be the biggest day of your life.
For those who have gone full Bridezilla, there's no reason to hide your head in shame. You're in good company. You might even remember some of these Bridezilla landmines from your big day:
1. When those jerks don't RSVP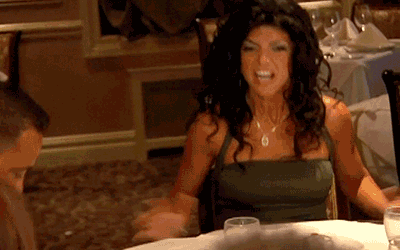 Image: Giphy
There's nothing that makes me ragier than people who don't RSVP — call me traditional, but it's true. How hard is it to RSVP to an important upcoming event? The answer is, not very. Dorian Smith-Garcia, founder and EIC of The Anti Bridezilla, recounts of her Tokyo destination wedding last year, "For some reason, people are very slow to return RSVPs, so it left me chasing people via phone, text and Facebook messenger! Considering that I was also coordinating with Japan, managing my regular work flow and just trying to keep a handle on everyday life — this was added stress I didn't need."
More: 12 Things to never say to a bridezilla
2. When you get lost on the way to the wedding

Image: Giphy
Word to the wise — plan and practice your wedding route at least once before the main event. You'll thank your past self for being organized enough to avoid one of the most common wedding day freakouts: Shit goes down when you can't find the ceremony site. LA Drye, author of Say "I Do" In A New York Minute, sheepishly recalls, "I cruised through the entire wedding planning process (33 days) and not a wrinkled eyebrow or pouty lip appeared, until I stepped out of the car to the entrance of Central Park."
"I was disoriented, and although I could have sworn I was at the right entrance to get to our wedding location, I couldn't figure out which way to go. So I asked one of the dozens of gentlemen waving huge postcards promoting tours of Central Park for directions to Cop Cot. The guy shrugged his shoulders and said he didn't know. Well, that was it for me. I let him have it and called him all kinds of fake tour guides and told him to go on a real tour so he could learn his job. This all happened while stomping down Fifth Avenue in 4-inch blue Badgley Mischka shoes as my girlfriends tried to shush me and tourists took pictures."
More: 10 Rules for bridezillas
3. When the wedding party is late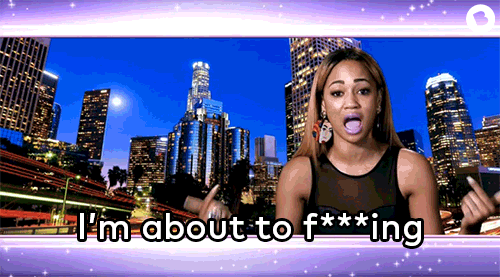 Image: Giphy
This may again be my typical type A personality talking, but couldn't you set your alarm 20 minutes early on what is only the biggest day of my life? In my humble opinion, tardiness to a wedding, especially if you are a participant in the wedding, is just plain ridiculous. Smith-Garcia adds, "The day of my wedding, some of my actual bridal party was late getting to our resort… and they had my husband's tux!"
4. When it rains on your wedding day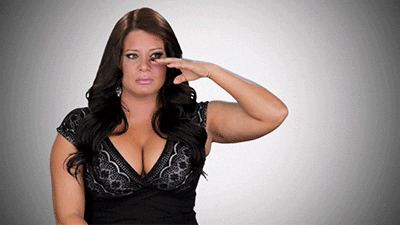 Image: Giphy
Dammit, Alanis Morissette! It's like you knew this was going to happen. Cathy Sue Carpenter, an author married in 2000, was one of those "lucky" brides who experienced ironic rain on her wedding day. She says it only went downhill from there, "It poured right before our garden wedding, so we were forced inside. The flowers were wrong, extra guests showed up and so did Aunt Flo, the facility was boiling hot, so I was a sweaty bride, versus blushing, the videographer didn't show and the DJ sucked."
5. When you waste time while taking wedding pictures
Image: Giphy
You've only got a few minutes to squeeze in formal wedding portraits after the ceremony and before the reception. Not to mention the fact that you're hungry and could really use a tall glass of Champagne. So why is your bridal party acting like they have all the time in the world? Hannah Kane, cofounder of Scrum Your Wedding, can totally identify, "I got married last year, and I'd say my most Bridezilla-ish moment was getting everyone together for formal portraits. Gathering a big group of people together for group photos has always been a pet peeve of mine, and the fact that it was my wedding day and I really just wanted to get back to the party didn't help at all! I swear, it was like herding cats."
6. When your wedding planner goes Bridezilla for you
Image: Giphy
If you're lucky, you won't lose your mind on your wedding day — your bull-in-a-china-shop wedding planner will do it for you. (That's what you're paying her for, right?) Treva Brandon Scharf of The Late Blooming Bride says, "I didn't go Bridezilla, but my wedding planner did. She argued with everyone, including our sponsor at the country club, the catering manager, the chef, our lighting guy, my husband and me, which was the final straw."
7. When everything goes wrong at the airport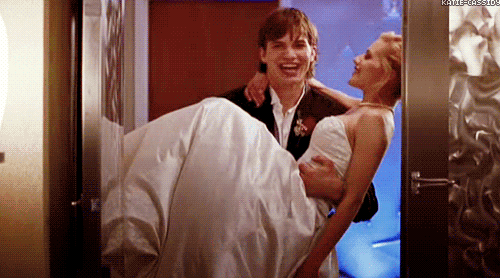 Image: Giphy
There's nothing worse than making it through your wedding in one piece, only to find that the evil airline gods have turned against you. If you could just make it to your honeymoon, you could put this whole mess behind you. Carpenter encourages new brides with her honeymoon nightmare that had a silver lining, "When we got to O'Hare to check in for our Paris honeymoon and were told the flight was overbooked and we had to wait, I flipped out. My new husband was annoyed with my Bridezilla behavior, but in a positive turn of events, we were bumped up to first class to Paris for our honeymoon, instead of being bumped off the flight. So our honeymoon started out right."