The one complaint that many long-term couples have is that the spark is gone — after all, complacency can be a relationship killer. But, it doesn't have to be like that. There are many ways to keep the flame alive, so we've compiled a handy list of hot tips to keep your partner coming back for more.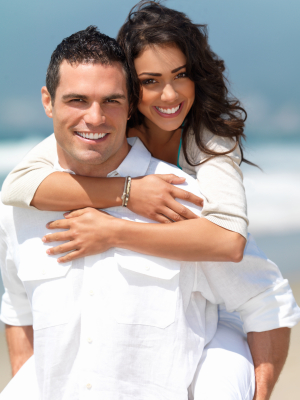 Generally speaking, men are visual creatures and women are more emotional — meaning men want the lingerie and the nakedness, while ladies lust after the romance of dating, touching and kissing. Keep this in mind as you browse through the following suggestions…
Date Nights
Never stop going on date nights. Give the kids to your parents or a babysitter and get out of the house. Ban any talk about the kids, work or any household activities that will get you bogged down, and instead, just be a couple who enjoy each other's company. If you can manage it, spend the night in a hotel, but at a minimum visit a nice hotel and enjoy a romantic grown-up evening all to yourself.
Compliments
Everyone loves a compliment! Tell your partner when they make a cute gesture, look good or that you think they're the hottest guy or girl in the room! You can never receive enough compliments, and your partner will hopefully follow your lead and start to return the favour. Win, win!
Adult Hugs
It might be a little saucy, but one thing that could inject some excitement back into your relationship is to vary the places you make love. It might involve some logistical planning — see babysitting arrangements under the heading "Date Nights" — but getting out of the bedroom is a sure-fire way to spice things up a little.
Normal Hugs
How good are hugs? When was the last time you hugged your partner? You don't need a reason, just give them a hug; keep in mind that it's been scientifically proven to be good for you too!
Kissing
While we're asking questions, when was the last time you kissed? I'm not referring to the "Good Night… mwah" peck, but the really romantic, lusty make out session? It may lead to Adult Hugs but if it doesn't, it's still tonnes of fun.
Massages and touching
A gentle stroke of the arm, a quick kiss or even a light graze lets your partner know you're thinking of them and that you care.
Gifts
As with compliments, everyone likes receiving a present. Whether it's flowers, chocolate, music or jewellery, don't wait for an occasion like Christmas, a birthday or an anniversary to do something nice for your partner. Surprise them!
Lingerie
Do we need to say more? Although, if it's the guy wearing the lingerie, that's a bit of a different story…
Baths
If you've got a bathtub, put it to good use! Run a nice warm bath for your partner and then surprise them by jumping in with them! Bath time for two can be seriously sexy.
Chivalry
This tip is mainly aimed at the men, but women can be chivalrous too! Open the door, carry the bags, clean the house. Just do something thoughtful and you'll be sure to win romantic brownie points!
More romance and relationship
Tropical getaways for couples
Exotic honeymoon ideas
First date dos and don'ts