A love ritual is something you do that is part of an established routine. The couples that take the time to create a love ritual find their relationship more loving and full of romance. If you've been looking for a way to create a new spark in your relationship, a love ritual might be just the idea for you.
Create a lasting ritual to help keep romance a permanent part of your relationship.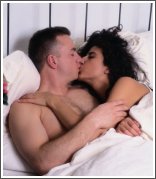 If this is something you'd like to try, the task of finding the perfect love ritual should be fairly easy. You can do anything from something as common as watching a favorite T.V. show at a set time every week to a more elaborate idea of reserving the day of the week you met as a special, all-out date night. Your options are truly endless! For more creative, ritual ideas, read the love rituals below that other Lovingyou.com couples are doing right now!
Everyday Rituals
"Every time we pass by or even get close to each other, we kiss and hug to tell each other how we are grateful we are that we met." -Candace Martin
"Every single night we make sure we cuddle on the couch together, make love anywhere and everywhere in the house, and then shower together and fall asleep in each other's arms. I love it!" -Tiana
"We always go to bed earlier than we need too, light candles and just talk, or whatever comes to mind!" -Suzanne
"Every night before my boyfriend and I go to bed, we ask if we have had our hug today. If not, we give each other a great big hug and a kiss, and tell each other 'I love you' and I fall asleep in his arms." -Anonymous
"We make sure we talk to each other every night before we go to sleep." -Anonymous
"My boyfriend and I enjoy watching the TV show "Friends" together. No matter what we are doing in our apartment, surfing the net or reading a book, we both stop at 6:30 and watch our TV show together. It's great to have something we can laugh at together." -Cori
"We pray every night together!" -Brooke
"Matt and I tape All my Children and watch it together every night after we come home from work. We also like to cook together, and we talk and ask how each other's day went. To me, it's extra special when we do things together. It creates memories and closer ties to each other." -Megan
"We give each other cute love quotes every morning." -Maha
"We take a midnight swim in the pool in the nude every night before bed." -Donna
Weekly Rituals
"Every Friday night, my partner and I stay out and cuddle and look at the stars together while I kiss his neck." -Holly
"We meet every Sunday (when both of us are free) at her apartment and spend the whole day together. We talk, go out to movies or dinners, cuddle up in front of the TV, and have fabulous sex at night. These love rituals keep the enthusiasm levels high and keep our relationship alive and roaring." -Sanmon
"He doesn't like to watch Dharma and Greg, but every Tuesday night he will cuddle up with me in bed and watch it with me." -Texasgirl
"Even though it's not always weekly, my husband and I love Barnes & Nobles bookstore. We take our son to story time and always get one of their Frappucinos. I had to go yesterday without him, so I skipped the Frap. It just wasn't the same without him." -Pab
"We first started dating on a Tuesday night, so we call it 'Special Tuesday.' This is a night for treating each other to a candlelight dinner, watching a movie or walking on the beach." -Alvern
"We have been married almost 43 years. We spend each evening before dinner–out on the patio listening to our old favorites (music of the fifties) with a martini or a lovely bottle of wine. We TALK a lot. Dinner follows. Then, what ever will be, will be. You can only imagine. We love each other to pieces." -Mary
"We spend every Sunday together, and we rent movies and just cuddle on the couch." -Summer Santagto
"We take a walk every weekend." -Gina
"My lover and I make it a habit to sit down together every Saturday and have a lovely breakfast for two. Both of us contribute to it. He makes the coffee and gets the juice, sets the table and I cook. No newspapers are allowed at the table and no television. We usually play something classical on the CD player. Breakfast usually takes about 2 and a half hours. Quality time with quality refreshments and quality music. We find it strengthens the bonds between us and gets us in the right mood for facing the rest of the world." -Trish
"We always leave Sundays for us. Sometimes we do no more than watch TV all day. Whatever we do it's our day." -Lisa
Bedtime Rituals
"We say 'I Love You' before going to sleep each night and every morning!" -Adam Olgin
"Every night before we go to bed, we tell each other our goodnight message, 'Goodnight, sleep tight, don't let the bed bugs bite, sweet dreams, I love you!" -In Love
"My sweetie says goodnight to me a certain way every single night. His pet name for me is Vikkybear. He says, 'Goodnight my little Vikkybear, I hope you have sweet, sweet dreams.' Then, he kisses me and hugs me. It's something I look forward to every night. Even when he was away for a week, he called me every night to say that to me." -Vikky
"Every night before we go to sleep, he kisses my hand. To me it is a sign of total respect and love." -Ashley
Long Distance Rituals
"My boyfriend and I always make sure to call one another before we go to sleep at night. It's a way for us to end the day knowing that one another is safe and tucked tight into bed. We also make sure that we never go to bed angry at each other. It's better to talk it out than to drag it out till the next day." -Laciebug
"My love ritual is having a phone date at 9:00pm every night until our voices start to crack early in the morning. That way we are the last person on each other's mind." -Tiey Lopez
"Our ritual is every night right before we go to bed, we send each other what we call "sweet stuff." It's just a little message telling the other how much we love them, how much we enjoyed the time we had together, and give each other wishes of a good night, and sweet dreams and pleasant day to come. It's seems weird now, but I'm so used to having them, that I can have trouble sleeping on nights when they aren't possible." -Jen
Random Rituals
"Take a bath together." -Woods
"When I come home after a great night with my honey, I flash my porch light three times before he drives off. (It means I LOVE YOU.) Then, he flashes his car lights 4 times to say 'I LOVE YOU MORE!'" -Brittni
"We give each other a really good massage at least once a month." -Loretta
"Since we live apart, whenever he takes me home he always opens the car door for me and then waits for me to get in. I smile at him until he shuts the door, even if it's freezing cold or raining." -Danielle