When Khloé Kardashian got pregnant, she probably never thought it'd inadvertently make her a vegan for a brief period of time. But that's exactly what happened.
More: Khloé Kardashian Shocked to Learn She's Not Having a Baby Boy
In early March, Kardashian updated her fans on her pregnancy diet on her website, saying, "I've been eating like a beast and I don't like it, LOL. In my second trimester, I was giving in to my cravings in moderation — but now in my third, I just don't have the self-control I used to have. Like it seriously all went out the window in my eighth month!"
But clearly, she does have some self-control when it comes to one particular food group: meat.
On her website (which you need to subscribe to for $2.99 per month to access), Kardashian revealed she hadn't been able to look at, let alone eat, any type of meat in the final weeks of her pregnancy.
"Before pregnancy, I really only ate chicken or turkey — no pork, red meat, most fish, lamb, etc.," she writes. "But now, I find meat absolutely disgusting, LOL. Just the sight of it makes me nauseous. So, I've become somewhat of a vegetarian during pregnancy, but not by choice."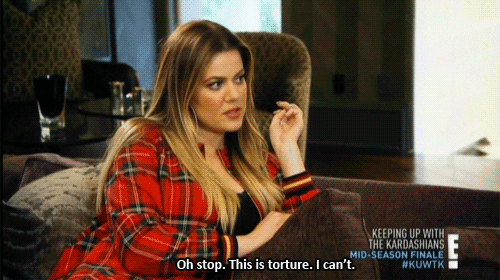 It didn't last long, though. She made clear toward the end of the blog post that meat "doesn't repulse [her] as much anymore."
Maybe this means she'll grab another order of Popeye's as she waits for her due date — like she did just a few weeks ago.
I am starving! I sort of want Popeyes. I'm not sure though LOL the struggle is real 🤰🏼

— Khloé (@khloekardashian) March 22, 2018
More: 12 Khloé Kardashian Quotes That'll Make You Want to Get Up & Get Moving
In true Khloé Kardashian fashion, she hasn't slipped up in terms of exercising throughout her pregnancy, and she's made some adjustments to her diet. Her nutritionist, Dr. Philip Goglia, shared with People that she's added some dairy, and she maintains "proper exercise protocols."
"[Khloé's] just a warrior," he says. "She really is fitness; it's what defines her. She's got a great attitude and she's super excited."
More recently, though, Kardashian's been "bored AF" waiting — as her due date quickly approaches. She has even resorted to posting to her Snapchat a video of herself with a bunny ears filter sitting on her birthing ball in her kitchen. Kardashian then posted a romantic Instagram photo of her and her Cleveland Cavaliers player boyfriend, Tristan Thompson, captioning it: "We are ready whenever you are little mama."
She and Thompson have been staying at their home in Cleveland, Ohio, over the past few weeks, and she plans to give birth in that city. It's reported Kris Jenner will fly out for the birth.
We're with Khloé: Any day now, baby girl!