It's time to clear out your pantry (and fridge, bedroom closet and hallway… wherever you have space!). Polar Seltzer just released four new flavors, and you've got to stock up before they're gone.
I'll be the first to admit that I am ridiculously obsessed with Polar brand seltzer. Their cranberry-lime flavor is unparalleled, and ever since I moved to the West Coast, the first thing I do when I visit home is stock up — their flavor selection is miles above any other brand.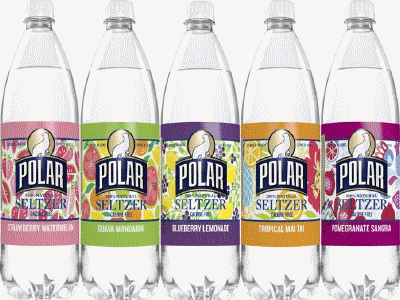 I even bought a bottle of their Unicorn Kisses seltzer on eBay when the flavor was first introduced last year, and it will be hard to resist doing the same thing with their new Impossibly Good line.
More: Just because everyone's obsessed with LaCroix doesn't mean you have to be
What is Impossibly Good? Joining last year's Unicorn Kisses, Polar has added Dragon Whispers, Yeti Mischief and Mermaid Song flavors to their roster. The packaging is incredibly cute.
https://www.instagram.com/p/BXQKdcAAeIM/
The Yeti Mischief cans are so adorable, I totally want to make the empty cans into some sort of upcycled garland I can use to decorate with.

And the flavors apparently taste pretty good too, each one being a different blend of fruit flavors. According to some initial taste testers, Yeti Magic tastes like fruit punch (though at least one Instagram user claimed it was a spot-on lemon-lime). Dragon Whispers is a blend of Pixy Stix, strawberry and pineapple. Mermaid Songs is a complex blend of Swedish Fish, Sour Patch Kids and pine tree (LOL). And Unicorn Kisses remains enigmatic, with tasters detecting everything from green apple to cotton candy in a single sip.
More: Quench Your Thirst for the '90s With the Return of Zima
Of the mythical creatures that inspired these flavors, the company said that, "[A]ll are New England natives…From the tree-tops of the Green Mountains to Cape Cod's coastline, these beautiful creatures are finally getting their due." Polar fans seem to agree that their time in the spotlight is long overdue, and they're stocking up as though preparing for a seltzerpocalypse.
https://www.instagram.com/p/BXQKhpSAY0o/

And honestly, who can blame them? I like La Croix as much as anyone, but when it comes to choosing from a nationally distributed can of lime seltzer or a local New England brand's Mermaid Song flavor, is there really any competition?
The Impossibly Good flavor selection will be around for a limited time only or until supplies run out. Hey, if ever there were an excuse to book a spontaneous trip to New England…