There are definitely perks of being the daughter of a Mexican immigrant, and learning how to make tamales is one of them. I grew up far away from most of my family, but we would travel to visit them every couple of years, where they would hold big tamaladas — which is basically a party where (mostly) women gather to roll tamales and gossip.
More: 19 Taco Meat Recipes That Will Make Taco Night Feel Brand New Again
Do I have my Mexican paternal grandmother's recipe for tamale filling? Lo siento, no. But I do have my Houston born and raised mom's interpretation. These may not be the most authentic tamales you'll ever make in your life, but they're definitely easy enough for a busy mother of five to make. Thanks, Mom!
More: How to Roll Tamales
Pork tamales recipe
Yields 5 dozen
Ingredients:
Filling
6 pounds pork shoulder
1 tablespoon salt
2 small cans tomatoes with liquid (blended)
1 cup chili powder
2 teaspoon garlic powder salt to taste
Masa
2 pounds lard
2 cups broth (room temperature)
5 pounds masa harina
1/4 cup baking powder
2 tablespoons salt
2 tablespoon chili powder
Directions:
Combine the ingredients for the filling in slow cooker and cook on high for at least 4 hours, until the meat is so tender it falls apart when pierced with a fork. Remove the meat to a platter and strain the broth.
For the masa, beat the lard with a tablespoon of the broth until light and fluffy.
In another bowl, sift together the remaining ingredients. Add them to the lard and combine, pouring in the broth a little at a time, until your dough is just thick enough to spread.
If you can render your own lard, these are a million times tastier. But sometimes you have to go with what's easy. Ask at the butcher at your local grocery store to see if they make their own lard.
Feel free to play around with the filling ingredients by adding corn niblets, whole chilies, fresh cilantro (after cooking) and whatever else sounds good.
Before you go, check out our slideshow below.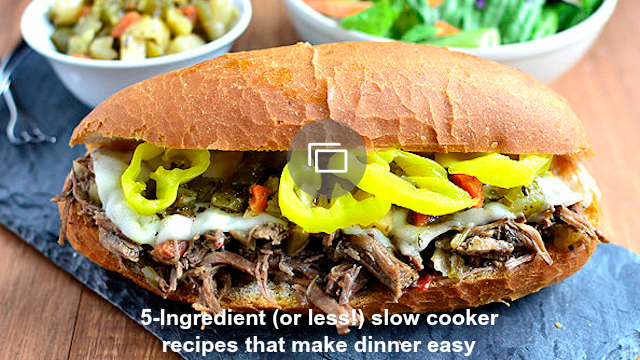 Originally published August 2016. Updated March 2017.